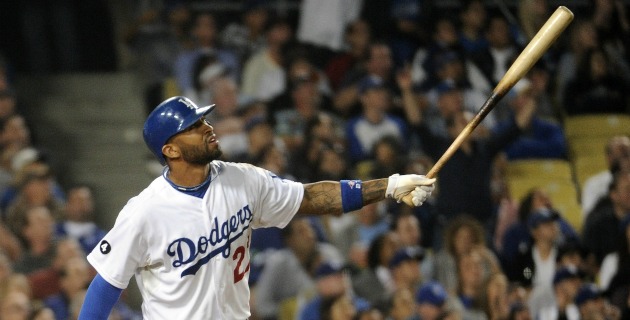 By Evan Brunell

What are the odds of
Matt Kemp
winning the Triple Crown?
Low.
That may not be what one wants to hear, but there's a reason why the last Triple Crown was accomplished way back in 1967 by Carl Yastrzemski -- it's really hard to pull off. And apparently it's harder in the NL, as the senior circuit is looking for its first Triple Crown since Joe Medwick in 1937.
Kemp came into Monday night with a solid chance at the Triple Crown with 37 home runs, tied with
Albert Pujols
for the league lead. He had
Prince Fielder
beaten in RBI by five, and Kemp cranked a three-run homer on Monday to take the homer lead and extend his RBI lead. So far, so good.
But batting average is a different story, with
Jose Reyes
at .331 and Kemp at .324 entering play Monday. That's a sizable gap to make up, and the gap widened after Monday's games as Kemp went 1-for-4 to remain at .324. Reyes, however, rapped out three hits in four trips to the plate to spike his batting average to .334. With two games left, Kemp would have to go on an absolute tear to get to Reyes. If he raps 10 hits in his next 10 at-bats -- and he may not even be able to cram 10 more at-bats into the season -- he will have a batting average of .335. Even nine hits won't help his cause, as he would be at .333 at that point. Of course, Reyes could slip under .333 across the next two games, but regardless, Kemp will have to show up and play even if Reyes goes 0-for-10 the rest of the way as that would only slip the Met to .327.
Not one player this year has put up nine or 10 hits in 10 at-bats this season. Heck, only five people the entire year has registered two consecutive games with at least four hits, and eve they didn't produce to the clip Kemp needs to get to .333 or higher.
Carl Crawford
came the closest to accomplishing what Kemp needs to, garnering eight hits in nine at-bats between games of May 25-26. But even that would only get Kemp to .332. The only time a player registered at least nine hits in 10 or less at-bats since the turn of the millennium was Marcus Giles of the
Braves
in 2003 when he rapped out exactly nine hits in 10 trips to the plate from July 28-29.
Bottom line, the only way Matt Kemp wins the Triple Crown is if he goes bananas at a historic pace and Reyes completely collapses. Impossible? No. Improbable? Very.
For more baseball news, rumors and analysis, follow @EyeonBaseball on Twitter or subscribe to the RSS feed.