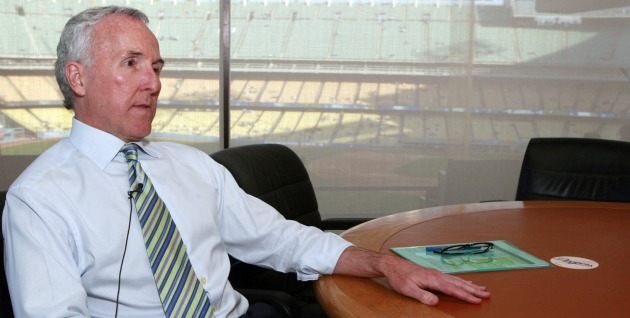 By Evan Brunell

Fox Sports has sued
Dodgers
owner Frank McCourt over the television rights sale that is currently pending between the two parties, the
Los Angeles Times
writes.
This television deal has been at the heart of the crisis with the Dodgers. McCourt is trying to hold onto ownership of the Dodgers after using it as his personal piggy bank during his marriage, and then seeing all his finances fall into disrepair thanks to a high-profile divorce. Baseball has been trying to force McCourt out of Los Angeles because of his shoddy financial planning, but McCourt refuses to do so. At the heart of the issue is a deal McCourt negotiated with Fox that would give the Dodgers the funds to survive. However, MLB and commissioner Bud Selig refuse to approve the deal because McCourt has already had his chance, plus part of the proceeds from the new TV deal would go toward paying off McCourt's divorce, not to the team.
The suit asks the judge to reject any sale of the Dodgers that does not meet the guidelines of the current TV contract, which gives Fox exclusive negotiating rights through Nov. 2012 as well as being able to match any offer. McCourt has proposed an auction process for television rights that do not abide by the current deal. Fox is also asking for damages, saying that the team has already violated the contract by sharing confidential broadcast rights information, even after being warned. The Dodgers, unsurprisingly, disagree.
McCourt is also trying to fend off a suit from MLB asking the U.S. Bankruptcy Court to order the sale of the Dodgers due to financial issues and mismanagement. L>A., in return, is asking for an extensive discovery phase in which they would be allowed to review sensitive financial documents of baseball and baseball teams in order to prove that Selig has a grudge against McCourt and the Dodgers.
"The commissioner asserts that 'Major League Baseball believes a sale of the Dodgers is necessary,' " the Dodgers' filing reads. The Dodgers "are entitled … to probe whether this view is genuine or merely a pretext ... particularly in view of the paramount policy of the bankruptcy laws of the United States to promote reorganizations and prevent liquidations. ...
"The Dodgers are guaranteed to complete the current season with a winning record," the filing read, "and its player development system appears to have generated the leading contenders for the National League Most Valuable Player and Cy Young Awards. It is, therefore, not self-evident that [the Dodgers are] acting in anything but in the best interests of the Dodgers or of baseball more generally."
For more baseball news, rumors and analysis, follow @EyeonBaseball on Twitter or subscribe to the RSS feed.