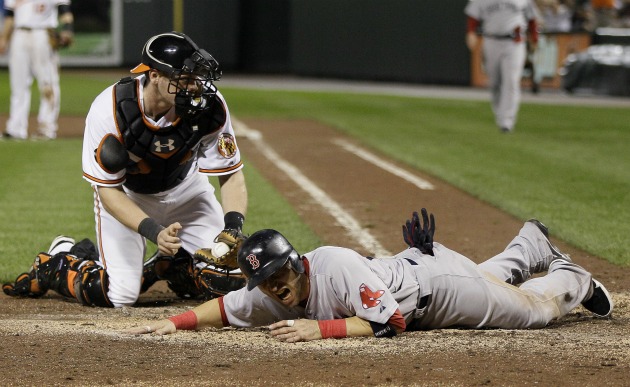 By Evan Brunell
The
Red Sox
authored an unimaginable collapse, riding a 7-20 September all the way toward falling out of the playoffs at the last moment. As Boston fell to Baltimore 4-3, the
Rays
walked off against the
Yankees
8-7 in an amazing end to the season. There's one play that stands out when looking back at how Boston blew Game 162 against the
Orioles
, and it appears to have been influenced by Red Sox Nation invading Camden Yards.
The setting: Red Sox shortstop
Marco Scutaro
is on first base in the eighth inning with Boston up 3-2.
Carl Crawford
at the plate. He slices a line drive to left fielder
Nolan Reimold
, who dove in an attempt to catch the ball. Scutaro, rounding second, heard cheers from the crowd. Scutaro, having briefly lost sight of the ball, paused, thinking cheers meant Reimold had made the catch. Except that Camden Yards is sometimes called Fenway Park South and it was no exception Wednesday. So the cheers actually meant Reimold had missed the ball.
"I heard the screaming, but I don't know if it was their crowd or our crowd, so I don't know if he made the play or not," Scutaro told the Providence Journal. "I just got a bad read. I should have just kept going."
Scutaro picked it back up once he realized what happened, and third base coach Tim Bogar tried to send him home anyways. The ball took a few hops to reach
Matt Wieters
, but it reached him before Scutaro did. Out.
Who knows if the Orioles would still have tied the game up or won in the ninth, but that extra insurance run and the wasted opportunity will haunt the dreams of Red Sox players all offseason.
"It seems like, the whole September, nothing works out for us," Scutaro said. "Everything went different ways and everything was against us, pretty much. I guess it was our destiny to be out of the playoffs. Nothing worked out. We didn't play good enough. What can I say? That's baseball."
Wakefield returning
:
Tim Wakefield
has decided he wants to play another year and intends to return to the Red Sox. "I've definitely made up my mind that I definitely want to come back next year," Wakefield
told Fox Sports
. "I have another goal in front of me that I'd like to accomplish, and that's the all-time record for the Red Sox in wins. I'm only seven away. I think the fans deserve an opportunity to watch me chase that record. We'll see what happens."
Pavanostache
:
Carl Pavano
had a mustache in 2010 that drew all manner of attention and was dubbed the Pavanostache, and enjoyed one of his best seasons. He didn't rock it at all in 2011 -- until Wednesday's final game, where he tossed his first shutout of the year, throwing a five-hitter. Does the mustache have some mystical power we don't know about? (
Minneapolis Star Tribune
)
Payroll rising
: The
Marlins
' payroll will rise, but president David Samson reined in expectations, saying that it won't reach as high as $100 million. The Marlins will set a record for payroll at the very least, he says, but payroll figures to top out at $80 million. (
Miami Herald
)
Moneyball
: The controversy over
Moneyball
continues, and the subject of both the book and movie finally weighed in. GM Billy Beane responded to allegations from manager Art Howe that Beane had a hand in crafting Howe's negative portrayal in the movie. "I was wondering who was going to be the first guy to think I produced, wrote or directed this movie," Beane told the
San Jose Mercury News
, saying he wasn't involved in making the movie. "Now I have my answer. [Howe's] comments are completely misguided."
Skippering:
Davey Johnson wants to return to the
Nationals
in 2012, but Washington is going to continue with interviewing other internal candidates. It still appears likely Johnson will return. (
MASN
)
Arrested
: Milton Bradley has been arrested for the second time this year after allegedly swinging a bat at his wife and missing. He was booked on felony assault, released on bail and is due back in court Oct. 18. (
Los Angeles Times
)
Affair
: Yankees GM Brian Cashman has just been caught up in what could be a messy affair. He is alleged to have entered into a relationship with a woman in 2009 who was married. (
Deadspin
)
For more baseball news, rumors and analysis, follow @EyeonBaseball on Twitter or subscribe to the RSS feed.