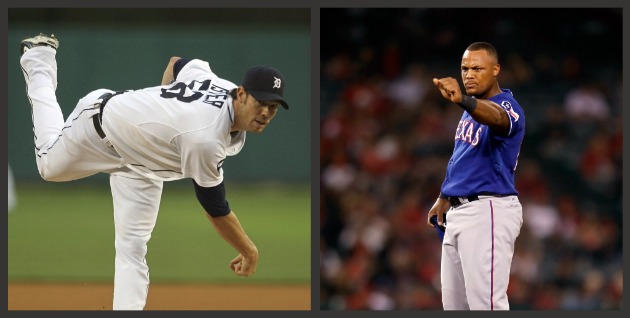 By Evan Brunell
September brought a dazzling postseason race that culminated in perhaps baseball's greatest final day of the season. Interestingly enough, however, there were only two of a possible 12 nominees for September player of the month that had any involvement in the race to the wire. As far as individual performances went, September belonged to two teams who had the division title in hand much of the month.
September's Best
Expert
Batter
Pitcher
Knobler
Cabrera
Fister
Miller
Beltre
Fister
Brunell
Napoli
Fister
Rosecrans
Longoria
Carpenter
Snyder
Beltre
Fister
Fantasy
Kinsler
Fister
Texas had an incredible offensive explosion, with three separate players garnering votes. Adrian Beltre, who finished fifth in the AL with 32 home runs, eked out a victory over his teammates along with Miguel Cabrera and Evan Longoria. Beltre hit .374/.385/.778, driving 12 homers out of the park after missing all of August and part of July with injury. Imagine how many homers Beltre might have had if he stayed healthy.
Teammates Napoli and Kinsler also had months to remember, the second baseman swinging to the tune of .330/.421/.711, blasting 11 homers, just one behind Beltre. He also swiped eight bags, two more than any other month to finish with 30 stolen bases and give Kinsler a 30/30 season. Napoli blew Beltre and Kinsler out of the water statistically, although he played in in a handful of less games thanks to being a catcher and having people blocking him at DH and first base. But Napoli went bonkers for a .429/.518/.843 line.
Meanwhile, Evan Longoria put the Rays in the playoffs and Miguel Cabrera solidified the offense behind the pitcher of the month in Doug Fister. Acquired from the Mariners at the trade deadline, Fister blew away the competition in September and showed that he was for real. After coming up as nothing more than a back-of-the-rotation starter thanks to solid command but no true out pitch, he emerged with Detroit as a potential ace. Fister's 0.5 ERA in September paced the field, and he was a perfect 5-0, throwing 34 innings and allowing just 15 hits and three walks.
Past players of the month: April | May | June | July | August
Batter of the Month
Danny Knobler
Scott Miller
Miguel Cabrera, Tigers
I read somewhere that Cabrera said Justin Verlander was the MVP. I'll go with that, but if there's an MVP for September, it's got to be Cabrera, who hit .429 and drove in 21 runs, with a 1.290 OPS. He hit, and the Tigers took off.

Adrian Beltre, Rangers
Not only did Beltre step off of the DL in the month of September and ease Texas' October concerns, he did it with incredible aplomb. Aside from playing his usual great third base, Beltre slugged 12 homers, collected 29 RBI and had an astounding 1.162 OPS. Thanks to his glove and his bat, the Rangers clinched home field advantage in the first round of the playoffs.
Evan Brunell
C. Trent Rosecrans
Mike Napoli, Rangers
Napoli struggled to break through with the Angels, then finally forced the Rangers' hand. And yet, he still goes unnoticed despite leading all batters in September in slugging percentage (.843), tied for first in average (.429) and second in OBP (.518). Only one word for this performance: Beast.
Evan Longoria, Rays
Am I putting too much on Wednesday night's performance? Perhaps, but he still had an incredible month as the Rays rallied over the last month of the season from nine games behind the Red Sox when the month started. Longoria hit .289/.454/.589 over the last month with seven homers and 22 RBI, including two big homers in the biggest game of the year.
Matt Snyder
Fantasy -- Scott White
Adrian Beltre, Rangers
The Rangers have been under the radar this month because they were expected to win the West, didn't have a huge comeback and won last year. But two of the best players in baseball this past month came from Texas and they weren't named Michael Young. Ian Kinsler loses out by a nod here, as Beltre hit 12 homers, drove home 28 and had a .374/.385/.778 line.

Ian Kinsler, Rangers
Kinsler's .330 batting average wasn't the highest for a batter in September, but that's the way his entire season has gone. The .255 hitter is so valuable in so many other ways that he's clearly among the cream of the crop, and never was it more evident than in September. He had 16 walks, 11 homers and eight steals, and the latter two propelled him to a 30-30 season.
Pitcher of the Month
Knobler
Miller
Doug Fister, Tigers
The Red Sox got Erik Bedard. The Tigers got Fister. The Red Sox are going home. The Tigers aren't. Fister was 5-0 in September, with a 0.53 ERA. Red Sox starters were 4-11 with a 7.08 ERA. Fister allowed just 18 base runners in 34 innings, with 34 strikeouts.
Doug Fister, Tigers
I watched Fister pitch down the stretch after Detroit acquired him from Seattle at the July 31 trade deadline and I felt like I was watching Doyle Alexander in 1987. Fister is taller (6-8), but man, was he nails after the trade. He went 5-0 in September with 34 strikeouts and three walks. He compiled an 0.53 WHIP. As long as the Tigers didn't give Seattle a future John Smoltz (they didn't), this is the best trade any contender made.
Brunell
Rosecrans
Doug Fister, Tigers
What else can be said that my fine colleagues already hasn't? Fister's September was so awe-inspiring, no one blinks twice when his name gets slotted behind Verlander at No. 2. in the postseason rotation. This guy was a No. 4/5 starter last year. How quickly things change.
Chris Carpenter, Cardinals
Carpenter went 3-0 with a 2.15 ERA and 0.98 WHIP in six starts in September. He also had two shutouts, as well as a scoreless eight-inning appearance against the Phillies. Like Longoria, he had a pretty good night on Wednesday, allowing just two hits to the Astros in his shutout at Minute Maid Park. September's all about raising to the occasion, and that's what Carpenter did.
Snyder
Fantasy -- White
Doug Fister, Tigers
The Tigers' rotation isn't a one-man show. Justin Verlander is going to take home the Cy Young in a rightful landslide, but Fister gives them a solid No. 2. He was 5-0 with a 0.53 ERA and a 34/3 K/BB rate in 34 innings. Many pitchers had great months, but Fister's symbolized how great the Tigers' chances to reach the World Series have become.

Doug Fister, Tigers
It sounds like a joke, but it's not. Fister was the most valuable pitcher for Fantasy owners in September. Was Javier Vazquez slightly better? Yes. But the disparity between expectations and results for Fister was so high that he's now forever part of Fantasy lore. He managed to win more games (five) than he started (four) and allowed only 18 baserunners in 34 innings. He was an out-of-nowhere ace.
Danny Knobler and Scott Miller are Senior MLB Writers; Evan Brunell, C. Trent Rosecrans and Matt Snyder are Eye on Baseball Bloggers; Scott White is a Fantasy Writer.
For more baseball news, rumors and analysis, follow @cbssportsmlb on Twitter or subscribe to the RSS feed.