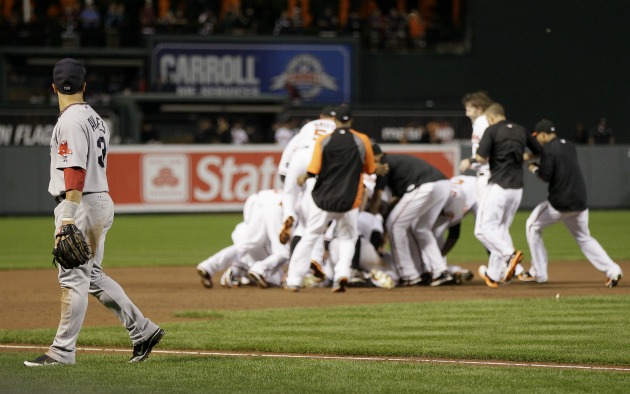 By C. Trent Rosecrans
Earlier today we looked forward to our writers' picks for the postseason -- and just to show you how much stock to put into them, we look back at our preseason picks.
Of our eight writers, seven picked the Red Sox to win the World Series. The other, Danny Knobler, picked the Braves. Oops.
Well, none of us have our own psychic hotline and none of us live in Vegas, so it's obvious that none of us have a window into the future. The funny thing with predictions, it's impossible to really guess any of them correctly. The season does funny things, like people get hurt, some underperform, some exceed expectations and Manny Ramirez can get suspended (what dope picked Manny as their Comeback Player of the Year? Oh, right.) But we were also right in some cases, but less on that, because it's not as fun for you to tell us how great we are for our correct picks.
Looking back at the comments, many people disagreed with the love for the Red Sox and after the team's bad start, called us idiots. We all felt a little better heading into September, when the best team of the May, June, July and August turned back into the team of April and out of the playoffs. Someone also said everyone on the panel was wrong about the NL Central, and while only one was right, five of the six teams were picked, so that commenter (I'm looking at you, musial2pujols) believed the Pirates would win it? But they did ask us to repost our predictions, so I'm happy I can make you happy.
Anyway, most of us are married, so we don't need you to tell us how stupid we are, but I'm sure you won't miss out on the opportunity. In anticipation, we all took a look back at our own predictions for each league and judge our success.
Scott Miller
AL best pick: Justin Verlander, AL Cy Young. The guy has had the tools to put together a season like he's having, but he's never quite put it all together. But Verlander told me during a conversation this spring that he had a plan to reverse his traditional slow April starts. He didn't get into details, but said he had a bullet-point list of reminders that he looked at every day. I figured then, he's a smart guy and if he's figured this out, he could be unstoppable in 2011.
AL worst pick: Boston Red Sox, AL East champs. As if a swing and a miss here isn't bad enough, there's the added component of angry Yankees fans telling me where to go. I've actually developed a couple as pen pals as we went back and forth beginning this spring when I picked Boston, they wrote and ripped, I replied and it went from there. Bottom line now: I was, um, inaccurate. My solace: I figure the Yankees fans are reveling so much in Boston's meltdown that they'll barely remember my pick.
What was I thinking? (AL version): Chicago White Sox, AL Central champs. Obviously, this never should have happened -- and I'm not talking about my wrong pick. That this team is third in the AL Central, looking up at .500, is insane. I picked them to win this spring largely because I loved their bullpen. Lots of strong arms. I figured the rotation was good enough and the lineup would take care of itself. I figured wrong. Thanks, Adam Dunn.
What I was thinking… (AL version): Jeremy Hellickson, AL Rookie of the Year. Correctly forecasting a Rookie of the Year -- any Rookie of the Year -- can be as difficult as picking the correct number of marbles in a jar. I feel pretty good about Hellickson -- really, he should win this award -- purely because of my respect for Tampa Bay, its player development system, general manager Andrew Friedman and manager Joe Maddon. These guys have developed more great young starting pitching than anybody else the past few years.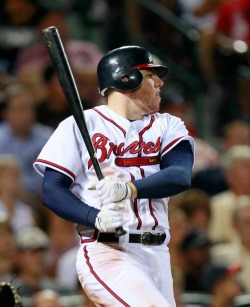 NL best pick: Freddie Freeman, NL Rookie of the Year. Somehow, I think his teammate, closer Craig Kimbrel, is going to run away with the NL Rookie award. So why is this my best pick? Because Freeman has had a very good rookie season as well and, as I reviewed my NL predictions ... man, did they stink! I was 0 for 3 in forecasting division winners. My awards, well ... I was all over the Rockies and got burned. My NL picks were so bad, I'll PAY you to not go back and look at them.
NL worst pick: Colorado Rockies NL West champs and Ubaldo Jimenez NL Cy Young. I've had a pretty good run at correctly picking Cy Young winners recently -- I nailed BOTH Cy Young winners coming out of spring training last year -- Seattle' Felix Hernandez and Philadelphia's Roy Halladay, I was one of the few nationally to go with Zack Greinke out of spring training in '09 ... but this, this Jimenez pick ... ugh. One of my worst ever. Given his no-hitter last year, his work ethic and the fact that he could pad stats in spacious NL West ballparks I really thought Jimenez was ready for a breakout season. Wrong.
What was I thinking (NL version): Atlanta Braves as NL East champs. What I was doing was overthinking. This spring served as a Phillies' coronation. So I started thinking, it's just not that easy. And when the hype reaches fever pitch, well, how often does something play out that way? Then I started thinking, things aren't that easy and the Phillies will hit a few bumps in the road. And what if an injury or two hit the Philadelphia rotation? Well, it didn't. And things were that easy (relatively speaking).
What I was thinking… (NL version): San Francisco Giants to miss the playoffs. My season predictions column was not popular in San Francisco, to say the least. But I did not like the Miguel Tejada as everyday shortstop idea from the beginning. I didn't think there was any way possible Aubrey Huff and Pat Burrell could come close to duplicating the lightening in a bottle they found last year. I couldn't see where Tim Lincecum, Matt Cain and Co. were going to get the offensive support they needed. And I was right ... sadly, because San Francisco is one of the best baseball cities going, and what a great ride it was spending all those days there last October.
Matt Snyder
AL best pick: I was the only one to pick the Yankees to win the AL East, so I guess that's the choice.
AL worst pick: Everything to do with the A's. You can blame injuries, but the Rangers were still clearly the superior team. I've long accused others of trying to get too cute with their picks, and this was me doing so myself. If I didn't call myself out, I'd be a hypocrite. So, yes, this was all bad.
What was I thinking? (AL version): The Orioles over Blue Jays in the AL East? Huh? Sure it's only for fourth place, but I have absolutely no recollection or justification for that one.
What I was thinking… (AL version): The White Sox appeared to have lots of talent, but they got sweeping underachievement across the board. The Twins were ravaged by injuries. A lot came together for the Tigers, including the acquisition of Doug Fister turning into gold. I hate missing on awful picks like the A's, but the Central misses don't bother me.
NL best pick: Ryan Braun may be beat out by Matt Kemp for the NL MVP, but it appears it's between the two. So either no one got it right or I was the only one. I'll take that any day. Latos for bust was a good one, too, but that seems rather obvious, especially in hindsight.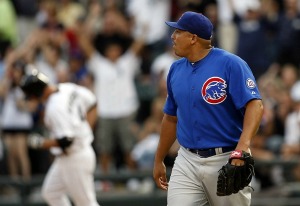 NL worst pick: The Cubs in the NL Central. Brutal. I'll take all due criticism for that one.
What was I thinking? (NL version): Edwin Rodriguez for manager of the year when the Marlins obviously want a fresh start in 2012 with the new stadium? C'mon, Matt.
What I was thinking… (NL version): Picking Domonic Brown for Rookie of the Year still makes sense to me. He showed all the signs of being ready prior to this season. He would have been entering a lineup with some good protection and RBI opportunities. I pretty much assumed the Phillies would be the class of the NL, so a big year for Brown would have him in the spotlight. Alas, a spring injury set him back and he never really played well in the bigs.
Larry Dobrow
AL best pick: Joe Mauer wasn't a bust in the same hope-extinguishing way that Adam Dunn was, but neither did he live up to his superstar-illuminating-the-dark-Mid
western-skies rep. It's just like my dad always says: "Son, it's difficult to ply your trade as a catcher when you can't bend at the knees." Dad's smart like that.
AL worst pick: The White Sox were supposed to surge and Ozzie Guillen was supposed to make writers' lives more entertaining by spitting out quotes like, "What attracted me to my wife is she's hot. She's also nice, she's a great mom - but that comes after she's hot" (in response to queries about Matt Thornton's plantar fasciitis, no less). But when the Sox went in the tank, Ozzie's public pronouncements took on a desperate, wounded, self-serving air (his Tweets remained merrily incoherent). The hour of the Chisox/Ozzie divorce is at hand.
What was I thinking? (AL edition): The Rangers seemed almost too obvious a candidate for a post-pennant hangover: The loss of Cliff Lee left them undermanned in the rotation, while Michael Young's maniacal, drooling YouTube rants, in which he demanded both an apology and a trade, left them needy at the position of Designated Nice Guy. But the pitching proved far sturdier than anyone expected (especially after the bullpen-bolstering trades) and the team kept doing winning-team things like scoring runs and catching the baseball. I missed badly on this one.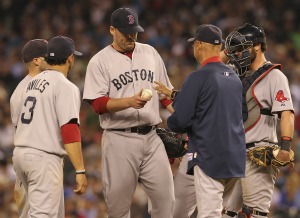 What I was thinking… (AL edition): I bought into the hype. I picked the Red Sox to win the AL East, the ALCS and the World Series. I picked Adrian Gonzalez for MVP, John Lackey for Mr. Congeniality and Jacoby Ellsbury for Teen Beat's Cutest Guy Alive. Unfortunately, I put my money where my mouth was, which means a certain neighborhood enforcer will be calling on me any day now to collect on a series of misguided prop bets. Send me your spare change. Please. Rocco's gonna break my knees.
NL best pick: My comeback-player pick Jose Reyes will finish 2011 with fewer plate appearances than he logged in 2010, owing to a pair of hamstrings that appear to have lost their elasticity. That said, he recaptured 50 points of slugging and 50 points of OBP, and his triples once again sent athleticism fetishists into a state of nigh-sexual frenzy. Hey, he gave us a reason to watch the Mets, right? That counts for something.
NL worst pick: Brandon Belt, my failed rookie-of-the-year pick, might've been the Giants' second-best hitter when they broke camp. Alas, he didn't immediately announce his presence with a seven-homer game, and this gave Bruce Bochy all the cover he needed to bench the kid. So yeah, expecting Bochy to play a newbie over a Trusted Veteran Who's Been There Before And Has Seen It All And Won't Make Rookie Mistakes Like Covering The Mound On A Suicide Squeeze Attempt™ was folly.
What was I thinking? (NL edition): The thought process that resulted in my Fredi Gonzalez/manager of the year prediction was linear: Owing to a bunch of stuff the manager had nothing to do with (specifically, the arrival of a young-pitching tsunami), the Braves would dethrone the Phillies and the new guy would get the credit. By the second week of April, however, I was starting to wonder whether Fredi's batting orders were meant to be received as performance art. Two weeks after that, I made an anonymous call to Children's Protective Services over my concern for Jonny Venters and Craig Kimbrel. In conclusion, I regret my Fredi-for-MOY prediction more than anything I've ever written, said, done, eaten, worn or listened to, including but not limited to goat stew and Kiss' Animalize.
What I was thinking… (NL edition): Even now I look at the Arizona roster and wonder how on earth they get to play bonus baseball later this week. But credit where credit is due: They patched the bullpen and won two out of every three games (44-23 through Sunday) in the season's second half. Plus they didn't take Kirk Gibson's advice about "busting ass around the bases" literally - a wise move, given Arizona's onerous penal statutes.
Scott White
AL best pick: Justin Verlander for Cy Young. I realize it's not as impressive as if I had picked Cliff Lee to win in it 2008. Verlander was on everybody's short list. But as dominant as he was to close out last season, going 5-1 with a 2.32 ERA over his final eight starts, I had a hunch he was on the verge of taking another step forward. Hey, at least I got something right.
AL worst pick: I certainly wasn't alone in picking the White Sox to win the AL Central, but if I had room to elaborate, I would have called them the second-best team to the Red Sox and as much of a powerhouse offensively. Guess I didn't count on Adam Dunn suddenly becoming the worst offensive player in the game, with Alex Rios right behind him. Guess I underestimated Gordon Beckham's regression, Carlos Quentin's propensity for injury, and the friction between the dugout and the front office. Honestly, you could include my whole AL Central standings here. Next year, I'm just picking teams out of a hat.
What was I thinking? (AL edition): Carlos Quentin as my surprise player. I guess the surprise would have been if he stayed healthy, but even then, he'd pretty much have to win AL MVP to be any kind of "surprise." Hey guys, here's my "surprise" player for 2011: Josh Hamilton. I'm telling you ...
What I was thinking... (AL edition): OK, so most of us thought the Red Sox were the best team in baseball heading into the season. But I realize now I had way too much confidence in their pitching staff. Even with Josh Beckett's rebound, they still didn't have enough arms in the end. Granted, the Clay Buchholz injury hurt, but the best teams would have a contingency plan for something like that. The Red Sox's collapse shows that if a team doesn't have three pitchers who can throw six or seven quality innings every time out, not even a lineup full of MVP candidates can save it.
NL best pick: Prince Fielder winning the home run title. I'm a regular Nostradamus, I know. I went way out on a limb and predicted that a guy who hits close to 40 homers every year would hit close to 40 homers this year. And he did. And I'm taking credit for it. Yes, I realize Kemp actually won the home run title, but Fielder had it heading into the final game.
NL worst pick: In retrospect, the Brewers should have been the obvious choice to win the NL Central. But the Reds were the easy one -- the lazy one, perhaps. The Brewers had the deepest lineup and the best top of the rotation. The Reds had unrealistic expectations for Edinson Volquez, Bronson Arroyo and Travis Wood. Or was it just me?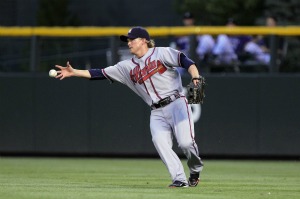 What was I thinking? (NL edition): Yes, I predicted a rebound season for Nate McLouth. The Braves said he had retooled his swing, general manager Frank Wren gave a little spiel about 2010 being an aberration because "too many teams" would "love to have him," and I bought it hook, line and sinker. At least I can take some solace in knowing I wasn't the only one. Honestly, I still don't understand his collapse. It's not like the guy was a one-hit wonder.
What I was thinking... (NL edition): My Chris Carpenter "bust" pick doesn't look all that bad. After all, he went only 11-9 with a slightly higher ERA and WHIP than usual. But I don't feel like I can take credit for it because, in all honesty, I thought he was pretty darn good. He struck out more than seven batters per nine innings. He pitched eight innings or more 12 times. He threw that shutout to get the Cardinals into the playoffs. I'm not going blame him for a lack of run support; that's not my idea of a bust. I was banking on a collapse given his age and the way he finished last season, and it didn't happen.
Evan Brunell
AL best pick: Calling Joe Maddon as manager of the year. It's actually not that hard to pick potential managers of the years given how voting goes. Simply look for a team that has the odds stacked against them or is primed for a breakout and boom -- you've got your winner.
AL worst pick: Clay Buchholz was my pick for the AL bust of the year. Buchholz had improbably registered a 2.33 ERA in 2010 with advanced pitching metrics showing that Buchholz deserved to have an ERA north of 4. Buchholz's ERA did actually regress back to 3.48 before his season was curtailed after 14 starts due to injury. Technically, the parameters of being a bust were met in Buchholz's stead, but I have a hard time congratulating myself for picking someone as a bust who remained a No. 3 starter even with ERA regression and who needed a major injury to solidify Buchholz as a bust.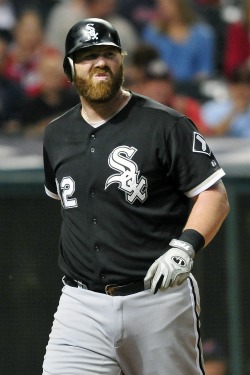 What was I thinking? (AL edition): Adam Dunn as home run champion. 'Nuf said.
What I was thinking... (AL edition): Gio Gonzalez was my surprise pick. I didn't think he could better his 2010 total in ERA with a 3.23 mark, but I did believe he would take the next step toward being one of the best pitchers in the league. Instead, Gonzalez had a remarkably similar year to 2010, but with a slight uptick in striking out batters. That's great -- in fact, Gonzalez's stock definitely rose this year -- but it's hardly qualifying of a surprise.
NL best pick: Predicting Tim Stauffer to be a surprise. Stauffer has put together a fine year for the Padres, and while he's obviously benefited from Petco Park, not many expected him to be a significant contributor.
NL worst pick: Picking Arizona to finish in last place. Many other prognosticators also thought the Diamondbacks would be awful, so there's that... but what gnaws at me is that I originally had them finishing in third place before pushing them down after seeing the industry's reaction to the team. Sometimes I just need to trust my gut.
What was I thinking? (NL edition): Brandon Belt as Rookie of the Year. Part of the blame falls on the Giants for not sticking with Belt, but he didn't exactly demand to stay in the lineup. Plus, with a two-year deal for Aubrey Huff and a jammed outfield, it was a pipe dream from the start that Belt would get at-bats. I just talked myself into believing the Giants would give Belt at-bats. Oops.
What I was thinking... (NL edition): I selected Matt Cain to be the NL bust of the year because I was concerned about his workload coming off the championship season of 2011. In addition, Cain looked as if he was playing with fire last year and just didn't get burned, so I wasn't confident in a repeat season. But not only did Cain in fact repeat with the same sketchy peripherals, he took it a step further by proving impossible to hit a home run off him, a trend that spreads among Giants pitchers and has to be taken seriously.
C. Trent Rosecrans
AL best pick: Well, there are slim pickins for me here, so I'll go with Jeremy Hellickson as the Rookie of the Year. He may or may not win it, but in a seas of bad picks, I'll take that.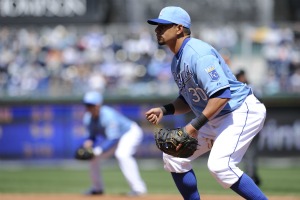 AL worst pick: Where to start? How about Kila Ka'aihue? Maybe it was just fun to say or write, but he played in just 23 games. Does that qualify as surprise player? I'm surprised he was that bad? But maybe I just meant Royals' first baseman -- because Eric Hosmer was good. Damn good.
What was I thinking? (AL edition): Manny Ramirez, comeback player of the year. Um. Not so much.
What I was thinking... (AL edition): I really liked the A's pitching -- and so did the A's. Until injuries devastated their rotation. And that pitching is exactly why I had Bob Geren as the Manager of the Year. If the A's rode their pitching to a division title, he'd be an easy pick for Manager of the Year. He didn't. And he isn't even manager of the A's, let alone Manager of the Year.
NL best pick: You know the surveys you see in Sports Illustrated about the biggest jerk and other such things? I was taking one of those before the 2010 season and remember asking about best fastball, best slider and the such, and repeatedly heard Clayton Kershaw as the answer. I thought this may be his year to break out and after winning the pitching triple crown, it looks like I'll get my Cy Young pick correct.
NL worst pick: In our podcast previewing the season, I asked Danny and Scott if there were any way the Diamondbacks didn't finish last. They talked about how Arizona could surprise and I just didn't see it. I said there was no way. I picked them last. I was wrong. (It should be noted, those two also picked Arizona last).
What was I thinking? (NL edition): I'm one of those people who loves Colby Rasmus' tools and believed they were just too good to not play in center field for the Cardinals. I had him as the surprise player of the year, and I was right in a way -- it was a surprise when the Cardinals went ahead and traded him.
What I was thinking… (NL edition): There was just too much hype for Aroldis Chapman coming into the season. He was on the cover of a national sports magazine (the same one that arrived in my mailbox today touting the overwhelming success of Boston sports in a nice piece of timing) and everyone wondered just what he could do in his first full season in the big leagues. Well, it was apparent he wasn't going to start and he wasn't going to close. He was going to be a setup man, and any struggle by a setup man is magnified, especially this one -- hence my pick for disappointment.
So, yeah, we were wrong. We were also right, and there were reasons for both. No matter what was predicted, it sure was fun to watch.


For more baseball news, rumors and analysis, follow @eyeonbaseball on Twitter or subscribe to the RSS feed.