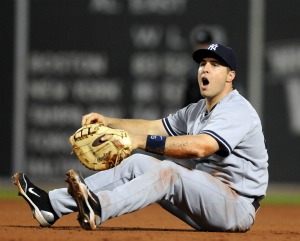 By C. Trent Rosecrans
Mark Teixeira nearly gave us a preview of the new playoff format, but the Yankee first baseman is happy with the way the system works now.
Teixeira hit two homers, including a grand slam, to give the Yankees a 7-0 lead against the Rays on Wednesday, and had his team been able to keep that lead, we would have had a play-in game for the American League wild card.
Starting as soon as next season (but more likely in 2013), we'll have that anyway, as Bud Selig has championed an extra wild card team and a one-game playoff between the two wild card teams. Count Teixeira against it -- pointing to Wednesday night's excitement as exhibit A.
"Last night proves that over 162 games, you still have (games that matter)," Teixeira told Brendan Prunty of the Star-Ledger. "You still had 4-5 games that meant a lot to each of those teams. The baseball fan gets to turn on the TV and watch that at once. It's pretty cool."
Teixeira joked that if MLB needed more excitement, "we can just have home run derbies in extra innings. Starting pitchers can go out and box for a couple of innings."
Of course, in the end, he hit the nail on the head -- "I guess if we can get one extra game on TV and make a couple of extra bucks -- I guess that's what it's all about."
That said, plenty of people said the same thing when Selig introduced the wild cards -- and that's worked out pretty well.
For more baseball news, rumors and analysis, follow @eyeonbaseball on Twitter or subscribe to the RSS feed.