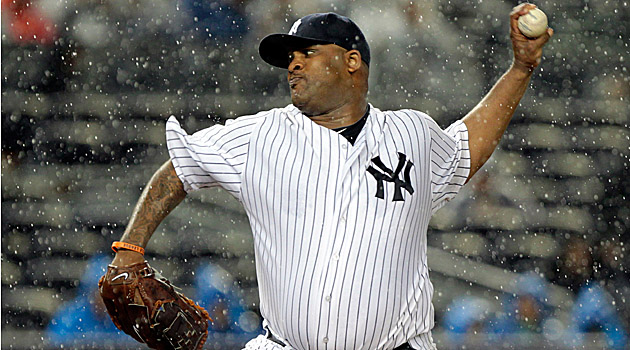 By Matt Snyder
Game 1 of the American League Division Series between the New York
Yankees
and Detroit
Tigers
has been postponed due to heavy rains throughout the night. At 9:07 p.m. ET, the tarp was placed on the field and play was suspended in the
middle of the 2nd inning with a 1-1 tie
.
On the TBS broadcast, MLB's vice president Joe Torre said the game will pick up where it left off Saturday night at 8:37 p.m. ET. Game 2 of the series will now be played Sunday at 3:07 p.m. ET and there won't be a scheduled day off for travel to Detroit. By Game 3 (Monday night), it will be back on schedule -- assuming the next two days don't bring the same weather woes.
The implications of this have the potential to shake the entire series. Aces
CC Sabathia
and
Justin Verlander
started the game. Sabathia threw 27 pitches and Verlander's thrown 25. Neither is going to come back Saturday night and Sunday night might be a stretch as well. But Game 3 on Monday? That's easily doable. And that's when they'll both pitch again.
Leyland has now announced that
Doug Fister
will take the ball when play resumes Saturday and
Max Scherzer
will go Sunday. Verlander then comes back on Monday with
Rick Porcello
slated for Game 4 and Doug Fister ready for Game 5, should the final two games be necessary. So this is a huge blow to the Tigers, who only get to use their ace once.
The Yankees will go with
Ivan Nova
when play resumes Saturday and follow with
Freddy Garcia
Sunday. That means CC vs. Verlander will take place in Comerica Park in Game 3. There hasn't been an announcement past that, but the Yankees' hand is likely forced to go with
A.J. Burnett
in Game 4 due to the circumstances, and then Nova would be ready for Game 5.
This is all assuming there are no further delays or postponements, and the radar shows that is entirely possible.
Suddenly the most important player in the series is Mother Nature.
For more baseball news, rumors and analysis, follow @EyeOnBaseball on Twitter or subscribe to the RSS feed.