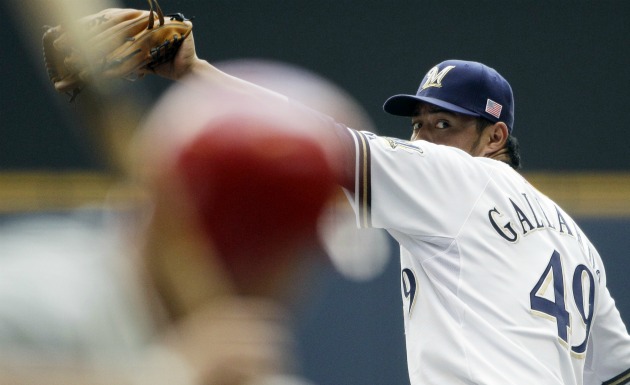 By C. Trent Rosecrans
Diamondbacks at Brewers, 2:07 p.m. ET, Miller Park, TBS
PITCHING MATCHUPS
Kennedy vs. Brewers: The Diamondbacks' 21-game winner faced the Brewers just once this season, holding the potent Brewers offense to just four hits in seven scoreless innings. However, that one start was in Arizona and the Brewers are a much different team at home. Milwaukee is hitting .277/.344/.461 at home and .246/.307/391 away from Miller Park. Kennedy's had susccess in smalll sample sizes against Brewers batters, with Craig Counsell having the most success against him (2 for 5), while Fielder is the only Brewer batter to hit a homer off of Kennedy, tagging the right-hander once in eight at-bats, but also striking out five times.
Gallardo vs. Diamondbacks: The Brewers right-hander has dominated the Brewers in his career, putting up a 5-0 record and 1.20 ERA in five career starts against Arizona. This season he faced Arizona twice, beating them in Milwaukee on July 6 and in Arizona on July 19.
NOTES
The Brewers have announced the roof at Miller Park will be closed for today's game. Weather.com says it will be 54 degrees at first pitch.
Fun with small sample sizes seems to be the reason for the Diamondbacks starting Overbay at first over rookie Paul Goldschmidt. Overbay is 2 for 3 in his career against Gallardo. Overbay is one of just two Diamondbacks with an average better than .333 against Gallardo, Cole Gillespie (1 for 2 with a homer) is the other. Overbay is also hot, hitting .381/.480/.667 with a homer in 25 plate appearances in September -- against, small sample sizes.
Another surprise in the lineups is third base for the Brewers, where Hairston gets the nod over Casey McGehee. Neither has a hit in their career against Kennedy. Expect McGehee back in the lineup Sunday against right-hander Daniel Hudson. McGehee is 5 for 5 with a homer against Hudson in his career.
Morgan is back in center field for Milwaukee after missing the last two regular-season games. On Monday, Morgan fouled two pitches off his right leg.
For more baseball news, rumors and analysis, follow @eyeonbaseball on Twitter or subscribe to the RSS feed.