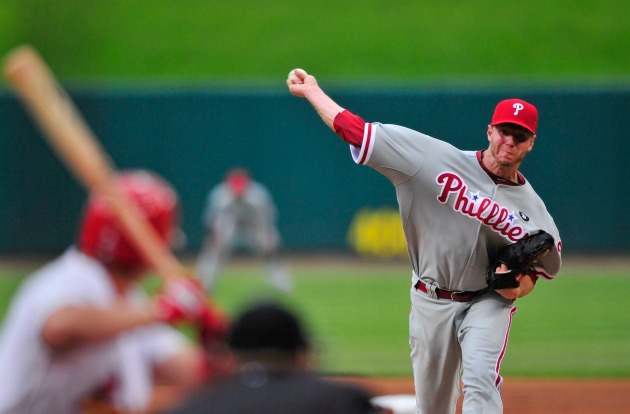 By
C. Trent Rosecrans
Cardinals at Phillies, 5:07 p.m. ET, Citizens Bank Park, TBS
PITCHING MATCHUPS
Lohse vs. Phillies: The former Phillie is 1-1 with a 1.76 ERA in two statrts against Philadelphia this season, beating Halladay and the Phillies on Sept. 19, allowing just an unearned run on seven hits in 7 1/3 innings. Howard is 8 for 16 in his career against Lohse with two homers, while three of Raul Ibanez's nine hits (in 33 at-bats) against Lohse have found the seats. On the other hand, Utley is just 4 for 24 (.167) against Lohse.
Halladay vs. Cardinals: The Cardinals may be wondering what the big deal about Halladay is -- Halladay is 0-1 with a 3.21 ERA in two starts against the Cardinals this season. He picked up a no-decision on June 21 in St. Louis and then the Cardinals beat him last month, allowing four earned runs on six hits, while walking four. Berkman homered in the first against Halladay in their last meeting, setting the stage for a key Cardinals victory. Berkman has five at-bats against Halladay, with the homer and has also walked twice. Pujols is just 2 for 11 in his career against Halladay.
NOTES
There is a 20 percent chance of rain at gametime, according to Weather.com, increasing to 50 percent by 7 p.m. The same weather patterens that postponed Friday night's ALDS could hurt both this series as well.
Matt Holliday remains out with an injured tendon in his right palm, but he is on the team's 25-man roster and expected to play later in the series. Tony La Russa said he could pinch-hit in Game 1 and hopes he can start Game 2. Berkman is getting the start in left, he started 16 games in left this season
The Cardianls left right-hander Kyle McClelland off the playoff roster because he's dealing with what the team is calling "dead arm." McClelland started the season in the rotation, but was moved back to the bullpen with the addition of Edwin Jackson.
Halladay, of course, pitched a no-hitter last year in the first game of the NLDS. It was also against an NL Central team that led the league in batting average.
For more baseball news, rumors and analysis, follow @eyeonbaseball on Twitter or subscribe to the RSS feed.