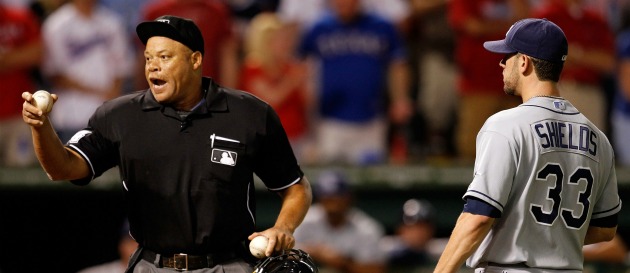 By Evan Brunell

ALDS Game 2
:
Rangers
8,
Rays
6
WP: Derek Holland
LP: James Shields
HR: TB - Evan Longoria, Matt Joyce | TEX - Mitch Moreland
Series: Rays 1, Rangers 1 in best-of-5
Hero: It was a rather balanced offensive attack for the Rangers, but Mitch Moreland deserves the honors here. Texas jumped out ahead thanks to a five-run fourth inning and looked to be wrapping up the game in the seventh, ahead by a 7-3 score. However, Evan Longoria changed things by blasting a three-run homer and pulling Tampa Bay within one. It was a tight ballgame again, but Moreland brought down the anxiety level in Texas by cranking a homer for a much-needed insurance run in the bottom of the eighth. Moreland also had a RBI groundout to cap the scoring in the fourth and ended the night with two RBI.
Goat: Home-plate umpire Kerwin Danley may have changed the outcome of the game and series as a whole when he jumped the gun in the fourth inning. With James Shields struggling, two runs in and runners on second and third, the righty really needed an out to stamp out the fire. He almost registered the second out of the inning when Kelly Shoppach pounced on a dribbler in front of home plate and easily threw out David Murphy -- or he would have, had Danley not called the ball foul already. The ball had come off the bat straight down in foul territory but bounced into fair territory, which means it should have counted. Murphy would go on to strike out, but reached on a wild pitch that scored another run. One more would cross before it was all over, and the Rangers' five-run inning set the tone for the rest of the game. No one's saying the Rays would have won without that miscue -- after all, the game was tied at that point and Shields was imploding -- but to make that kind of error with the stakes as high as they are is inexcusable. An extra couple seconds would have made the difference. You don't need to call a ball foul that fast, especially when it's at home plate. Most umpires -- most competent ones -- move out from their stance and attempt to get a visual on the ball from the side before calling it fair or foul. Danley just didn't bother.
Update: Joe Maddon reported that Danley's case was that Murphy's bat hit the ball a second time. (@jasoncollette)
More postseason coverage: Postseason schedule | Rangers-Rays series | 2011 playoffs
Video: Ian Kinsler, Mike Napoli talk about the win
For more baseball news, rumors and analysis, follow @EyeonBaseball on Twitter or subscribe to the RSS feed.