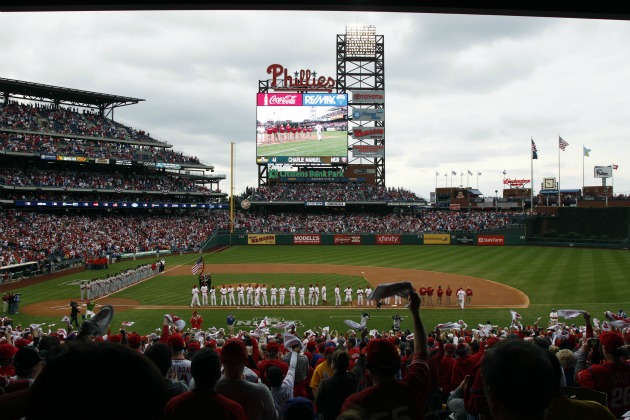 By
C. Trent Rosecrans
Cardinals at Phillies, 8:37 p.m. ET, Citizens Bank Park, TBS
PITCHING MATCHUPS
Carpenter vs. Phillies: The Phillies can't be too excited about facing Carpenter again as the Cardinals' ace has dominated Philly this season. In two starts against Philadelphia, Carpenter's allowed just a single earned run and beaten the Phillies in both outings. Most recently, he held the Phillies scoreless through eight innings in the Cardinals' 5-0 victory at Citizens Bank Park on Sept. 18. On June 23 in St. Louis, Carpenter allowed one earned run on five hits in seven innings, striking out seven and walking one. Utley's had the most success of any Phillies hitter against Carpenter, going 7 for 15 in his career. Pence and Fielder have homered off of Carpenter, but Pence is 4 for 22 (.182) and Howard is 2 for 9 (.222).
Lee vs. Cardinals: A full sixth of Lee's 42 walks this year have come against the Cardinals, as the Phillies left-hander is 1-1 with a 1.76 ERA in two starts against St. Louis this season. Six of those seven walks, however were in one game, a loss at Busch Stadium on May 16. In his last outing, he pitched a six-hit shutout on June 22 at Citizens Bank Park. Berkman's had the most success against Lee in his career, with five hits in 13 at-bats, including three doubles. Pujols, on the other hand, has just one hit in eight at-bats against Lee. The only Cardinals to homer off of Lee is Furcal, who is 2 for 3 in his career off of the lefty.
NOTES
According to Weather.com, there are possible showers Sunday night at Citizens Bank Park, but no real threat of prolonged delays.
Matt Holliday is out of the lineup again with a strained tendon in his right palm. Tony La Russa said before Game 1 that he'd be available to pinch-hit and hoped he'd be ready for Game 2. Holliday left the penultimate game of the regular season and hasn't played since.
Carpenter is starting on three days rest for the first time in his career. He threw a 105-pitch shutout over the Astros on the final day of the regular season to help the Cardinals win the wild card.
For more baseball news, rumors and analysis, follow @eyeonbaseball on Twitter or subscribe to the RSS feed.