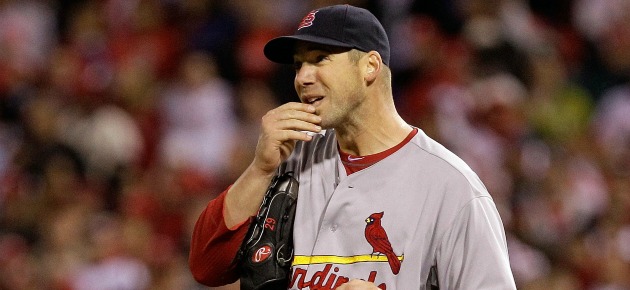 By Evan Brunell

Chris Carpenter
headed to the mound for Game 2 of the NLDS attempting to pitch on three days rest for the first time in his career.
Skipper Tony La Russa explained the move as wanting Carpenter to make two starts in the series as the reason for moving him up a day and slotting
Jaime Garcia
in Game 3. La Russa was taking a calculated risk, as
three-days-rest outings in the postseason have decreased
in both frequency and effectiveness over the last several seasons. And La Russa of all people should have noticed that, as his personal history bears out. Prior to Carpenter's start, La Russa started a pitcher on three days rest four times in the playoffs for St. Louis. The combined ERA for all four pitchers? 14.18. (hat tip:
@BJRains
)
Carpenter is more of the same, as his 18.00 ERA after two innings bears out. He needed 30 pitches just to record the first out of the game, loading the bases on a leadoff double and two walks, allowing two runners to come in on a
Ryan Howard
RBI single. That makrs six RBI in two postseason games for Howard, after six games last year led to zero RBI. Another run went on to score in the inning, then Carp got two quick outs in the second. Alas, Rollins doubled again to bring up Utley. Before a 3-2 pitch to Utley, TBS cameras caught La Russa yelling "s---!" He proved psychic as Utley walked, allowing
Hunter Pence
to drill a RBI single before Carpenter retired Howard to get out of the second.
A 4-0 hole in the playoffs is never good, but when it's scored by the
Phillies
, you can pretty much count the game over. With
Cliff Lee
on the mound, it's going to be hard enough to score one run, never mind four. Carpenter is coming out for the third inning, but unless he can turn it around quick, he won't be long for the game.
Follow the game live with CBSSports.com's GameTracker.
For more baseball news, rumors and analysis, follow @EyeonBaseball on Twitter or subscribe to the RSS feed.