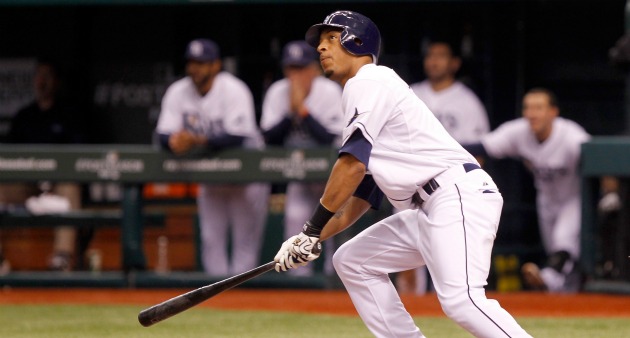 By Evan Brunell

When
Carl Crawford
left town, the popular opinion was that
Desmond Jennings
would replace Crawford in left field to kick off the season. The
Rays
had other ideas and stashed Jennings for more seasoning in Triple-A, opting to go with
Sam Fuld
instead.
While Fuld was catching everyone's attention in the early going with his defensive wizardry and hot start, Jennings hit .275/.374/.456 in the farm with 17 steals, biding his time. Finally, he received the call in late July and promptly showed Tampa Bay what it had been missing all season, contributing a scorching-hot .333/.415/.611 in August, slamming seven home runs and nailing Fuld's butt to the bench.
But then, in September, Jennings showed everyone why he was a rookie, scuffling through a .160/.268/.250 close to the season. That could have -- and would have -- given any lesser manager reason to yank Jennings from the lineup. But Joe Maddon knew Jennings was the best player available to left, and that's why he's been in the lineup in every game of the ALDS thus far, including leading off Games 2 and 3. He equipped himself ably the first two games, collecting two hits and walks apiece in nine trips to the plate, but his biggest contribution to date has come in Game 3.
Colby Lewis
was suffocating the Rays through three innings, hurling a perfect game and continuing the dominance over Tampa he's held since returning from Japanese ball prior to the 2010 season. But then Jennings stepped to the plate and ended the perfect game, no-hitter and shutout in one fell swoop by slamming a ball over the left field fence to give Tampa a 1-0 lead. Lewis then surrendered a walk to
B.J. Upton
before punching out the side, but the damage was done, thanks to the person tasked with filling Carl Crawford's shoes.
Follow the Rangers-Rays game live at CBSSports.com's GameTracker.
For more baseball news, rumors and analysis, follow @EyeonBaseball on Twitter or subscribe to the RSS feed.