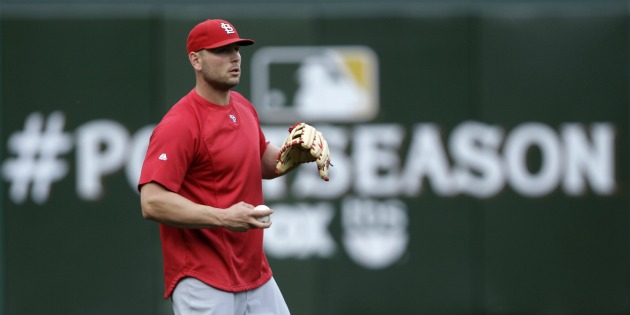 By C. Trent Rosecrans
Matt Holliday won't start Game 3 of the NL divisional series on Tuesday for the Cardinals, Joe Strauss of the St. Louis Post-Dispatch reports.
Holliday has been limited to a single pinch-hit appearance, but the strained tendon in his right hand will keep him out of Tuesday's lineup. Holliday visited a hand specialist on Monday and didn't swing the bat, Strauss writes. Holliday underwent an MRI on Monday.
"It's more fun to be half full than half empty, but in this case it's tougher to be optimistic because he did feel significant pain in his one at-bat," La Russa told the newspaper. "We're kind of crossing our fingers, and I hope it's good news. But I don't know."
The team is not ready to disable Holiday, because doing so during the series would make him ineligible for the next round of the playoffs.
Holliday was used at as a pinch hitter in Game 1, striking out to end the game. He stood in the on-deck circle in Game 2, but La Russa admitted afterward he was just a decoy and was not going to hit.
The outfielder has been burdened by the injury since the last week of the season and was removed from a game in Houston on Aug. 26 because of pain in his hand when he tried to throw the ball.
Holliday hit .296/.388/.525 with 22 home runs and 75 RBI in an injury-filled 2011. Holliday needed an emergency appendectomy in the first week of the season, but missed just seven games, avoiding the disabled list. He struggled with a quad injury in May and June before finally going on the disabled list on June 1. And then in August, he had to leave a game after a moth flew into his ear. HIs latest injury came late in the season while swinging, but he had to leave last Monday's game with the Astros because he couldn't throw the ball without pain and hasn't started a game since.
For more baseball news, rumors and analysis, follow @eyeonbaseball on Twitter or subscribe to the RSS feed.