By Evan Brunell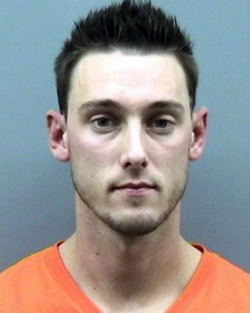 Jordan Schafer
of the
Astros
has been arrested with third-degree felony marijuana possession, the
Houston Chronicle
writes.
According to a police report, Schafer was pulled over in a 2008 Land Rover with an expired Mississippi license plate after pulling up next to an unmarked police vehicle. (Schafer played in the Braves' minor league system in Mississippi.)

The report said the driver's and passenger's side windows were partially down with a "strong odor of marijuana" coming from the vehicle. Schafer was also said in the report to have a joint in his hand. The police conducted a traffic stop for the expired plate and found a clear plastic bag with a leafy substance that tested positive as marijuana.

The 25.9 grams that the police report claims were in the bag exceed the 20-gram cutoff for felony charges rather than misdemeanor. Schafer also, according to the report, had three marijuana peanut butter cups in the car and claimed ownership of all the drugs.
25.9 grams equates to about 0.9 ounces, which is under the legal limit of one ounce in many states. The arrest came outside the Cheesecake Factory, where he was arrested at 12:28 a.m., and was later released on $2,000 bond. While Schafer didn't give the police his employer, it is no secret he plays for the Astros, coming over in a trade-deadline deal for
Michael Bourn
. Schafer hit .242/.309/.315 across 337 total plate appearances with 22 stolen bases, missing time with a broken hand.
Schafer was previously suspended 50 games in 2009 for HGH use. He was never tested for it or even found to have purchased it, but enough evidence was gathered by MLB to suspend Schafer, who denied using HGH.
For more baseball news, rumors and analysis, follow @EyeonBaseball on Twitter or subscribe to the RSS feed.