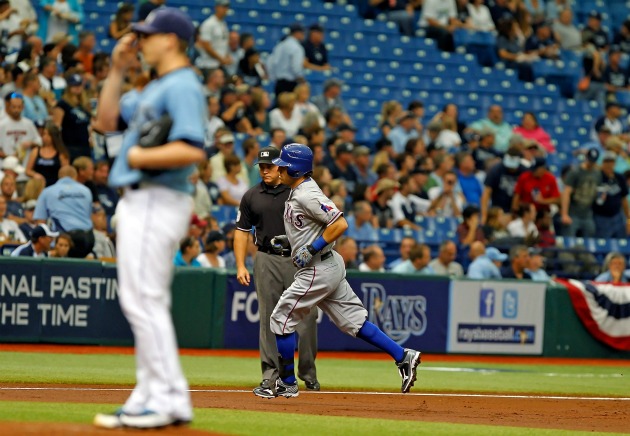 By Evan Brunell

Jeremy Hellickson
's first postseason start didn't go as he anticipated, serving up three home runs and allowing Texas take a 3-2 lead after four innings.
Hellickson, who appears to be the favorite to win the AL Rookie of the Year award after tossing up a 2.95 ERA in 29 starts spanning 189 innings, got his cage rattled immediately when
Ian Kinsler
took Hellickson's second pitch of the night deep into the stands, starting Tampa off with a 1-0 deficit. Texas chipped in another run on a homer when
Adrian Beltre
took him deep. No shame in that, as Beltre's 32 homers in just 124 games was his highest home-run total outside of 2004, when he slammed 48 for the
Dodgers
.
But Hellickson got burned again by Beltre two innings later. It's the first time in Hellickson's major-league career he's given up three homers. Two homers in one game has happened just twice: June 10 of this season against Baltimore, followed a month later on July 3 against St. Louis.
The
Rays
wasted no time yanking Hellickson from the game, ending his night after four innings. He finishes his first postseason start with a 6.75 ERA on the backing of three runs in four innings, walking one, whiffing one and allowing four hits in total. If these homers were mere flyouts, or even doubles, Hellickson would have been having a fine game and cruising along. Instead, Tampa's going with their other rookie phenom,
Matt Moore
, in an attempt to even the series at 2-2 and send the ALDS back to Texas.
For more baseball news, rumors and analysis, follow @EyeonBaseball on Twitter or subscribe to the RSS feed.