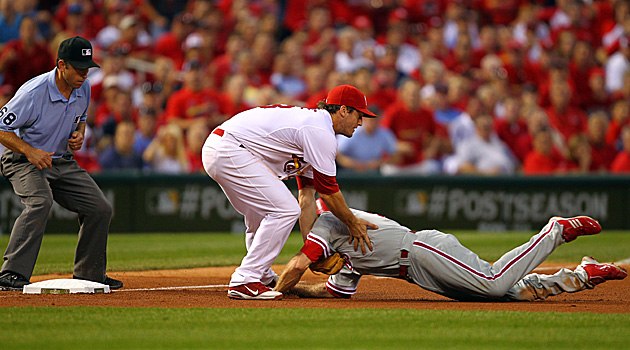 By Matt Snyder
Albert Pujols
is still the best player in baseball and we saw it again on display Wednesday night. He didn't show us with his bat, as he so often does. It's not just the hitting. He's good at everything. Tuesday night, he stole third base in the first inning. Wednesday night, we were treated to his defensive and mental prowess in one fell swoop.
In the top of the sixth, with the
Cardinals
holding a one-run lead,
Chase Utley
broke for second with the pitch on an apparent hit-and-run.
Hunter Pence
hit a grounder to shortstop. As
Rafael Furcal
went to throw the ball to first base and record the easy out, Utley took a huge gamble and tried to get to third base. Pujols saw Utley take off, and came off the bag to get the ball and throw Utley out at third base. He got him by several feet with a perfect throw -- see the picture above. Had Pujols stayed on the base, Utley would have been on third with just one out and
Ryan Howard
coming to the plate. A sacrifice fly would then tie the game. But Pujols instinctively came off the bag and nailed the lead runner.
Pujols fills the stat sheet with the best of them. While he wasn't the best hitter in the league in 2011, due to a slow start, he still had a 150 OPS-plus -- meaning his on-base percentage plus slugging percentage was 50 percent better than the average hitter -- with 37 home runs and 99 RBI in 147 games. And that's the worst year he's had in a decade. But he's also a guy who does all the little things. Just like how people like to say lesser talented players (
Ryan Theriot
?) do the "little things." So does Pujols. That's why he's still the best player in baseball.
David Freese
was the hero of Game 4 with the double, home run and four RBI, but don't forget about Pujols' defensive play. If he doesn't make it, it's entirely possible the game heads into the late innings tied at three. From there, anything can happen. Instead, we're going to be treated with Game 5 Friday night. Praise Freese and several other Cardinals, but don't forget about that soon-to-be free agent first baseman.
Video:
Manager Tony La Russa discusses his team's Game 4 win.
For more baseball news, rumors and analysis, follow @EyeOnBaseball on Twitter or subscribe to the RSS feed.