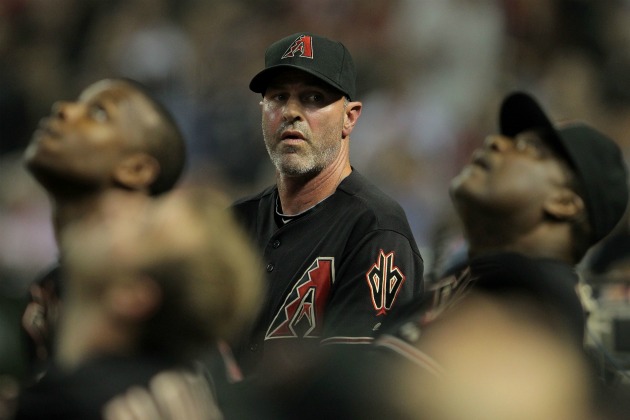 By C. Trent Rosecrans
Kirk Gibson had a quick hook -- and Ron Roenicke's was too slow. Because of that, the Diamondbacks and Brewers are headed back to Milwaukee for a Game 5 on Friday.
Both managers had pivotal decisions to make in the third inning in Wednesday's Game 4 of the National League division series -- usually much too early for managerial tinkering but with the season on the line, it's never too early to make a bold decision. And that's exactly what Gibson did.
Even with a 5-3 lead, Gibson gambled that the Brewers high-powered offense could score more runs and every run the Diamondbacks added would be vital to victory. So, with two outs and runners on second and third, Gibson sent pinch hitter Collin Cowgil to hit for starter Joe Saunders.
Meanwhile, Roenicke kept his struggling starter, Randy Wolf, in the game.
"There's been a lot of outings this year he's first inning scuffled and then turned it around and really got us to the sixth seventh inning," Roenicke said in the postgame news conference. "That's what we were hoping to do."
Saunders gave up runs in each of the first three innings, but actually got out of a deep hole in the top of the third, getting out of a two-on, no-out jam with just one run surrendered. After walking Ryan Braun, Saunders got Prince Fielder to fly out to center, Rickie Weeks to fly out to right and Yuniesky Betancourt to pop up to second. It seemed he'd found himself and was starting to find the strike zone. Saunders had a 5.18 ERA in the first inning this season and a 2.99 ERA in innings 4-6.
However, with a chance to put more runs on the board, Gibson gambled by going with the pinch-hitter and leaving the final six innings up to his bullpen.
Cowgill, a .239 hitter in his rookie season, came through with a single to score two runs and increase the Arizona lead. Wolf got Willie Bloomquist to fly out to end the inning, but that would be the end of his night -- a batter too early.
Wolf was the third batter scheduled to bat in the top of the fourth, so perhaps Roenicke didn't want to burn two relievers and a pinch-hitter in one move, but that would have been a small price to pay to avoid a four-run deficit.
After Micah Owings gave the Diamondbacks two scoreless innings, rookie Jarrod Parker -- in just his second big-league appearance -- struggled, loading the bases, but once again Gibson knew when to head to the mound in time to limit damage, as Bryan Shaw came in to save the day, surrendering just one run and keeping the Diamondbacks on top.
Gibson was roundly criticized early in this series, but Wednesday he made all the right moves and there's a Game 5 on Friday because of them.
For more baseball news, rumors and analysis, follow @eyeonbaseball on Twitter or subscribe to the RSS feed.