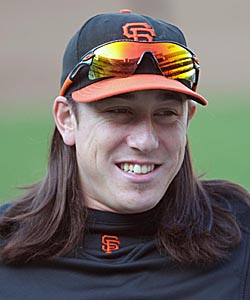 By Matt Snyder
Tim Lincecum
faces a lawsuit that alleges he has destroyed $200,000 worth of property in a furnished San Francisco apartment. The
Giants
ace is alleged to have illegally lived in the apartment after his lease was up, during which time he "broke, stained, defaced, tore, injured or destroyed" property inside the apartment. Landlord Mindy Freile is seeking $350,000 in damages from Lincecum. His lease expired Feb. 28, but Lincecum reportedly stayed until May 13, when Freile -- who had reportedly been trying to force Lincecum out -- entered the unit and noticed the damage.
"My belief is there was some kind of party that left it in really bad condition," said Freile's attorney Jonathan Bonstein (
Mercurynews.com
). "Maybe there's a perfectly good explanation on his side, but we haven't heard it yet."
Freile's complaint says that the following items were significantly damaged: "Bedding, doors, carpet, pillows, kitchenware, linens, furniture, household appliances, art work, decorations, patio furniture, lights, lamps, and mirrors, among other things."
The Giants haven't commented on the matter, but Lincecum's attorney has said it's an "unwarranted lawsuit" that he refuses to "dignify with a response."
The two-time Cy Young Award winner has been cited for misdemeanor possession of marijuana in the past, but otherwise has a clean off-field record.
For more baseball news, rumors and analysis, follow @EyeOnBaseball on Twitter or subscribe to the RSS feed.