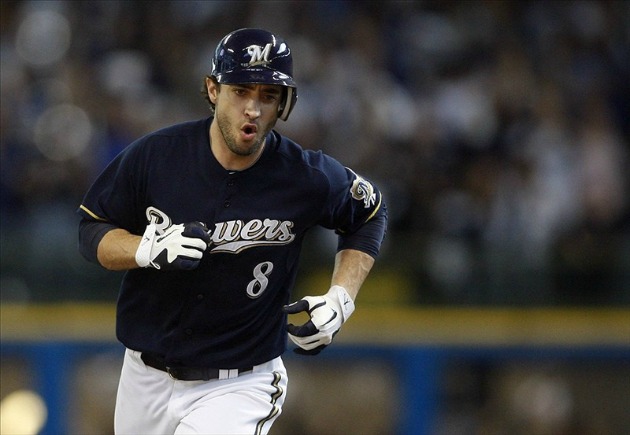 By C. Trent Rosecrans
Diamondbacks vs. Brewers, Miller Park, 5:07 p.m. ET on TBS
One of the more famous stories in American sports history is that of Sandy Koufax refusing to play on Yom Kippur. Koufax, who is Jewish, decided not to pitch Game 1 of the 1965 World Series because it fell on the Jewish holiday, which is also known as Day of Atonement and is the holiest of day of the year in the religion. It is traditionally observed by a 25-hour period of fasting and intensive prayer.
Yom Kippur begins tonight at sundown and perhaps the most visible Jewish athlete in American sports has what could be the biggest game of his life, as Brewers outfielder Ryan Braun prepares for Game 5 of the National League division series against the Arizona Diamondbacks. A win, and Braun will advance in the playoffs for the first time in his career. Braun is a big part of the Brewers' lineup, he's a potential MVP and is hitting .467/.529/.867 with three doubles and a homer, driving in four in the series.
The game is scheduled to being at 4:07 p.m. local time in Milwaukee, so the game could finish before the scheduled 6:23 p.m. setting of the sun. But that is unlikely to be an issue anyway. The Brewers faced a similar situation in 2007 and the then-rookie Braun said he would play regardless.
"I am half Jewish, and I am not Orthodox," Braun told MLB.com in 2007. "So I never grew up celebrating the holidays. I'm going to play."
In addition to Koufax, another famous Jewish baseball player chose not to play on Yom Kippur, when Hank Greenberg played on Rosh Hashanah, but not on Yom Kippur during a Tigers pennant race in 1934.
What's interesting to me is the reactions -- in 1934 Greenberg was bashed by the Detroit press for putting himself over the team. In 1965 Koufax was praised for sticking to his ideals and being true to himself. In 2011, it's not really an issue for Braun -- and that's OK. I think the interesting thing is the different reactions based on the different times.
I don't for a moment want it to be interpreted as me judging Braun for playing -- it's his decision and his alone to judge. He's doing what he feels is right, and as a non-practicing Jew, why should he step aside? I'm sure someone in the comments will say I'm judging him -- and I'm the last person who can judge another man's religious convictions -- good, bad or indifferent. I've worked on every holiday known to man, from Christmas Day to Arbor Day -- and I usually volunteer. To me, it's just interesting to see the changes we've made in a society as far as this issue is concerned, and use Braun as a way of looking back at Greenberg and Koufax and admiring what they did in their own time.


LINEUPS
Lineups have yet to be released
PITCHING MATCHUPS
Kennedy vs. Brewers: Kennedy was a little worse than average in Game 1, allowing four earned runs on eight hits in 6 2/3 innings in the Diamondbacks' loss. The big blow was Prince Fielder's two-run, two-out homer that chased Kennedy in the seventh inning. Fielder is 4 for 12 in his career against Kennedy with a double and two homers and six strikeouts.
Gallardo vs. Diamondbacks: Game 1 came down to Gallardo's mastery of the Diamondbacks, as Gallardo held Arizona to four hits and one run, striking out nine over eight innings. Arizona threatened in the first inning of Game 1, but Willie Bloomquist was thrown out at the plate by Ryan Braun for the inning's second out and then Gallardo retired the next seven batters he faced. After asking his only batter of the game in the fourth, he retired his next eight. By the time Ryan Roberts homered in the eighth, Milwaukee led 4-1 and the Brewers were in control. Counting his Game 1 performance, Gallardo is 6-0 with a 1.18 ERA in his career against Arizona.
NOTES
Like the first four games of the series, the roof will be closed for Friday's Game 5 at Miller Park. The Brewers are 29-12 with the roof closed this season (including the first two games of the series) and 30-12 with it open.
The home team has won every game in this series, making it the only series in the division series dominated by home teams. The Brewers, of course, had baseball's best home record in the regular season, going 57-24.
Brewers second baseman Rickie Weeks is just 1 for 15 in the series, tripling in the Brewers' Game 2 victory at Miller Park.
Brewers closer John Axford saved both Brewers wins and hasn't allowed a hit in his two innings, walking two.
Zack Greinke will be available out of the bullpen if Gallardo struggles, manager Ron Roenicke said during Thursday's news conference.
For more baseball news, rumors and analysis, follow @eyeonbaseball on Twitter or subscribe to the RSS feed.