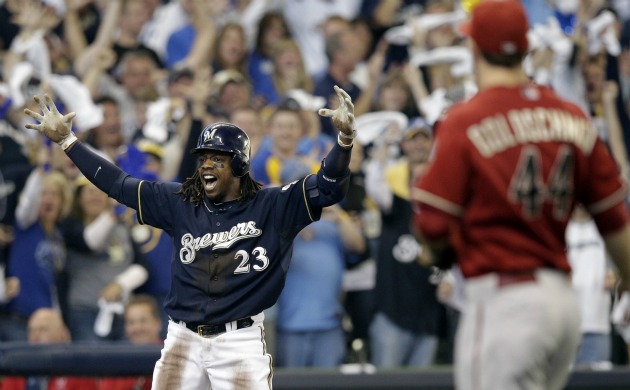 By C. Trent Rosecrans
MILWAUKEE -- Three times I've started a blog post about how much I dislike the
Brewers
' "Beast Mode" celebration. I was all set to maybe do it again. But then,
Craig Counsell
(of all people) turned me around.
I'm not sure I've seen Counsell do the "Beat Mode" (seen above) and I'm not sure I will. It's just not his style. And that's exactly why he convinced me it's OK -- because it's not forced, it's just something the Brewers do as a part of genuine joy. It doesn't matter that the Rangers had their claw and antler first or that the Diamondbacks tried out their silly snake. All of those are OK, or at least according to Counsell.
Counsell refused to call himself "old school" or anything else (although Nyjer Morgan does call him "uncle" because he's older than the rest of the team). He didn't give out labels or talk about playing "the right way" or anything else.
"I think a lot of teams are doing something. The Rangers did it. For me, it's a high-five to the dugout," Counsell said. "It's a high-five, a fist-bump -- from a distance. It's just the dugout giving the guy on the base a high-five.
"I understand why it's getting attention and you expect it to. I think it's a harmless thing and it's just fun."
He also said it's genuine. The Brewers do this because they enjoy playing together, they cheer for each other and this is the way they show it.
"We have players who like to show their personality, we have players that play better when they show emotion and you don't take that away from them," Counsell said. "I suppose if you want to get really deep, I guess society is leaning toward showing more emotion, but I don't feel I'm old school, new school or anything."
So bring on your "Beast Mode" or your "Cobra' or your "Claw and Antler" -- I don't care. If it's fun for you, it's fun for the crowd, then it's fun. And that's what this is all about, right?
For more baseball news, rumors and analysis, follow @cbssportsmlb on Twitter or subscribe to the RSS feed.