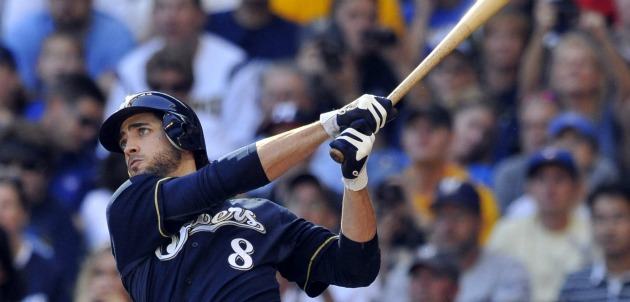 By C. Trent Rosecrans
MILWAUKEE -- When the National League's two best offenses match up, what did you expect other than a slugfest? That's what Ronny's Wallbangers delivered in a 9-6 Brewers victory over the Cardinals to take a 1-0 lead in the NLCS.
Hero: If Ryan Braun was under-appreciated headed into this postseason, he's not going to be after it. Not only did he hit a two-run homer in the first inning, he doubled in two more in the six-run Brewer fifth. It's often said the key to beating the Brewers is to not let Braun and Prince Fielder beat you -- it's beginning to be just hope you can survive Braun and hope Fielder doesn't follow with a big blast, like he did in the sixth. In the postseason, Braun is now hitting .500/.577/1.000 and it's pretty safe he's making a case to add a postseason MVP trophy to the one he could win for the regular season.
Goat: Cardinals left-hander Jaime Garcia just didn't have his best stuff, but was able to get some help from the bottom of the Brewers lineup to avoid a big Brewers first inning. However, even after his team staked him to a 5-2 lead, he couldn't hold onto it. He probably should've been taken out earlier (more on that in a minute), but he didn't help himself by giving up a single and a double to start the sixth, only to see Braun and Fielder come up and finish off his game.
Turning point: Tony La Russa had Octavio Dotel warming up in the bullpen ready to come in for the fifth inning. Garcia gave up back-to-back doubles to Corey Hart and Jerry Hairston to lead off the inning, it seemed to be the end of Garcia's night. Except La Russa never got off the top step, even with Braun and Fielder coming up. Both Braun and Fielder were 2 for 8 in their lifetime against the right-handed reliever, with both striking out six times. Braun had a double against him, while Fielder also had a walk. The first-guessing on La Russa's tactic quickly turned to second- and third-guessing when Braun doubled and then Fielder homered -- and then La Russa took out Garcia.
It was over when … In the seventh inning, St. Louis was trailing by three, but had runners on first and third with no outs and Albert Pujols coming to the plate. It was pretty much the dream scenario for the Cardinals -- but Takashi Saito, pitching to his second batter, got Pujols to ground into a double play. Sure, a run scored to make it 8-6, but it took the air out of the Cardinals' hopes.
Next: Game 2 pits St. Louis right-hander Edwin Jackson against Milwaukee's Shaun Marcum at 8:07 p.m. ET on Monday at Miller Park in Milwaukee. With Sunday's Game 1 win, the Brewers have won all four postseason games played in Milwaukee this year. Jackson pitched twice in Milwaukee against the Brewers this season -- getting rocked for 10 runs (eight earned) in seven innings on Aug. 3 and then giving up just one run in seven innings on Aug.30. Marcum fared worse at home than on the road this season, going 5-4 with a 4.81 ERA at Miller Park and 8-3 with a 2.21 ERA elsewhere.
For more baseball news, rumors and analysis, follow @cbssportsmlb on Twitter or subscribe to the RSS feed.