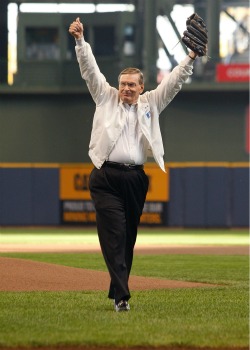 By C. Trent Rosecrans
MILWAUKEE -- Postseason expansion is most likely going to baseball, but not as soon as next season, or at leas that's the impression commissioner Bud Selig gave when he spoke to reporters before Game 2 of the National League Championship Series.
"I don't know yet," Selig said when asked if an expanded postseason could come in 2012. "I think that might be a little optimistic, but I don't know yet."
As for the idea of two more wild card teams, hearing Selig talk, it sounds like it's nearly a done deal. When asked what he thought about those talking about expanded replay, Selig chuckled -- "Since I'm the guy, I guess, I don't want to be too critical of me."
He expanded on the thought a little bit: "Well, let me start by saying I always enjoy -- you know, I'm a history buff, and you learn history teaches you so much if you look back. When I went to the wild card system in Boston in September of '93 -- and I always give John Harrington a great deal of credit for that, John Harrington and Dave Montgomery were my two faithful guys. They were really smart and understood schedules.
"You remember I got killed. I was getting killed for a lot of things. It was brutal. He's ruining the sport, what's he doing, and so on and so forth. And we kept expanding and expanding and expanding, and somebody had to make an adjustment. You couldn't have 30 teams and just keep it at six.
"It's worked out, I think everybody would admit, better than anybody could have dreamed. You look back. That's why you don't make decisions based on one year. I know I've heard some people say, look, it's perfect, look what we had this year.
"And it is correct. But you don't do it on the basis of one year, you do it on the basis of overall.
I've said to everybody I think 10 out of 30 is fair. I think it will produce the number. I will tell you on my 14-man committee -- Tony La Russa is here today, so he could speak to it -- the vote is 14 to nothing, it's been all the way along. We spent hours talking about it."
Selig talked about a few other things, as well, including:
• The upcoming collective bargaining agreement negotiations: " I couldn't give you a timetable, because that's always dangerous. But they've been quiet, thoughtful and constructive. I hope we'll continue on that path.
"Far different from the labor negotiations of the '80s, '70s, '90s, stories every day. They were painful. And I remember saying that a lot that this isn't helpful and it isn't healthy. You need to do your work and hopefully you can do it quietly. I think they have. And I give a lot of credit to both parties, Michael Weiner and the Players' Association and Rob Manfred in our group. We have Jerry Reinsdorf and Arte Moreno are part of the negotiating committee.
"It's been good. It's really been very good. Very constructive. But we shall see what we shall see."
• On the use of the pitch tracker on TV broadcast: " Well, it's part of the world we live in. They do that in all sports now and different things. I really am not critical of that. If I were them, I guess I'd do the same thing."
He added, "I keep asking people how accurate those zones are and I get different answers from different baseball people. But, a lot of competition out there, a lot of things. So I can't blame them for doing that, I really can't."
• On his meeting with prospective Astros owner Jim Crane last week: "I thought the meeting was constructive. And other than that I don't have anything to say about it. It was the first time he and I really spent any time together, and I thought the meeting was constructive. But nothing more than that."
• On TV ratings for this postseason without the big-market teams: "I'm satisfied. I really am. I think that having different clubs win is not bad at all. And I'm proud of that. But, you know, and I really mean this, what's better for ratings is something we just can't worry about. I think I looked at the last two weeks, it's been just miraculous. Produced great ratings, by the way, I might add. But that last Wednesday night of the season, only baseball -- and I've said this before -- could produce something like that."
• On the Mets' ownership situation: "No, I don't have any concerns. I've talked to Fred [Wilpon] a lot about it and they seem to be making good progress at what they're trying to do. And he feels comfortable with it and I really don't at this point. They've made no demands or anything. They seem to be moving along in the right path."
• On standardizing the designated hitter: "So we've done this 39 years. And I'll say it again, it would take some overall big event that maybe would force people to make a decision. But right now the National League guys don't like it. The American League does like it. And that doesn't bother me at all.
"Somehow on a great night of irony, that one League has one rule -- and remarkably the fate of western civilization hasn't been changed."
For more baseball news, rumors and analysis, follow @cbssportsmlb on Twitter or subscribe to the RSS feed.