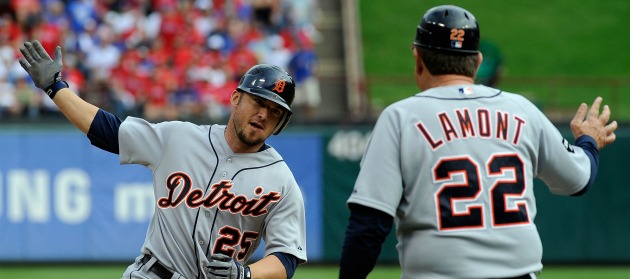 By Evan Brunell
Ryan Raburn and Don Kelly weren't supposed to play pivotal roles for the Tigers in the playoffs.

And yet, if Detroit had come away with the victory, the story would have been about these two bench players who provided the bulk of the Tigers offense on Monday, collecting three of eight team hits. Raburn's lone hit was the biggest, launching a three-run homer that ended Derek Holland's night and put the Tigers ahead 3-2. It was even more significant given the Tigers' futility with runners in scoring position, having been just 2-for-29 dating back to Game 3 of the ALDS against the Yankees.

"I was just battling ... he kept throwing fastballs up in the zone," Raburn said of the homer, nothing that over time, the Tigers began sitting dead-red on Holland's fastball "For the most part, we battled him real well."

Unfortunately for Detroit, they couldn't capitalize on starter Derek Holland's wildness beyond Raburn's homers. Holland constantly played with fire, issuing four walks and throwing 80 percent fastballs, most of them up in the zone. Detroit kept clinging onto that 3-2 lead, though, with Raburn calling it "nerve-wracking," but things changed in the seventh inning thanks to a Nelson Cruz home run. (Rangers pitcher Scott Feldman, who hurled 4 1/3 innings of relief, said he thought "my beard was going to turn gray.")

Once that happened and the game was tied, it was Kelly who gave the Tigers hope by doubling in the ninth inning with a runner on first. Unfortunately, that runner, Ramon Santiago, is far from a speedster and was held up at third base. There was some controversy as to whether Santiago would have scored, but Kelly didn't have any opinion on it as he didn't see the play unfold, but skipper Jim Leyland had his answer ready. "The ball came back to [Cruz in right field]," he said. "We were hoping it would kick back, but it didn't. It just came back to him and that's kind of the luck of the draw."

Cruz agreed, saying he got a good bounce and with a man on first base he had to play "no doubles, as close to the gap, as close to the wall. I picked it up as quick as I could. I even bobbled it a little bit. I threw the ball as quick as I could.'

After an intentional walk to Miguel Cabrera, Victor Martinez popped out. That was the last and best chance Detroit had of coming away with a win and Detroit had to witness Cruz burning them yet again with a walkoff grand slam, the first walkoff in postseason franchise history.

"It's part of the game," Raburn said. "They're a great team out there. They battled."

Kelly concurred, but wasn't ready to give up and start packing his bags for home. "We had some tough games against the Yankees as well," he said, "and we were able to bounce back. That's what we're looking forward to doing tomorrow."

A 2-0 series lead is a tough obstacle to overcome, and going back to the creation of the best-of-seven LCS in 1985, 18 of 21 teams who have taken a 2-0 lead advanced to the playoffs. Those that didn't were the 1985 Blue Jays, Dodgers and 2004 Yankees. Kelly spoke about his experiences growing up as a kid and rooting for the Pirates, loving the chance Pittsburgh gave him as a child to celebrate victories. He's hoping the Tigers can come through for all the Detroit children now that the Tigers are headed back home.

"We've dealt with adversity all year long, and that's not going to change now," he said.

For more baseball news, rumors and analysis, follow @EyeonBaseball on Twitter or subscribe to the RSS feed.
Photo: Raburn