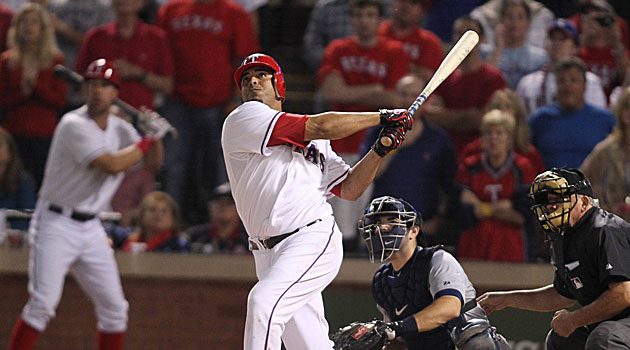 By Matt Snyder
While betting on baseball isn't near as prevalent as in football or basketball, it still happens. And wouldn't you know it, the over/under for Monday's
Rangers
-Tigers ALCS Game 2 was nine. So heading into extra innings knotted at three meant those who had the under felt like it was a definite win and those who had the over probably gave up. Certainly the two teams wouldn't combine for four more runs when one run by either club could win it.
Hitting the over was even more improbable when the Rangers loaded the bases with nobody out. One run wins the game. Literally, the
only
possible outcome that could result in an "over" bet winning was a grand slam. Any other type of hit, a wild pitch, a sacrifice fly ... anything, and the under wins. But Cruz came through with the slam, winning the game for the Rangers. In the process, he won millions of dollars collectively for the betting public.
Roughly two-thirds of the approximately $4.5 million in action worldwide was on the over,
RJ Bell, founder of Pregame.com
tells CBSSports.com.
"So the OVER cashing allowed the players to MAKE $1.5 million in net (over bettors won $3 million, under bettors lost $1.5 million); rather than losing $1.5 million in net (3 mill loss, 1.5 won)," Bell said in an email. "Meaning the Grand Slam made a $3 million dollar positive difference for players worldwide."
We often hear the lament or joy of gamblers on meaningless 3-pointers or touchdowns, so now baseball has its own high-profile case of one swing shifting the balance of money so significantly.
For more baseball news, rumors and analysis, follow @EyeOnBaseball on Twitter or subscribe to the RSS feed.