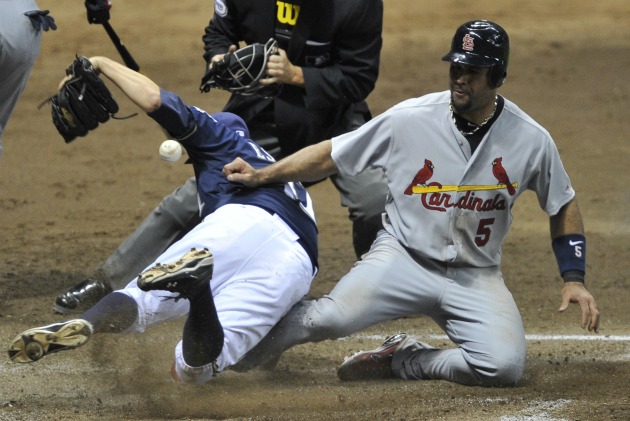 By C. Trent Rosecrans
ST. LOUIS -- The Cardinals' Game 2 victory wrestled homefield advantage from the Brewers as the National League Championship Series heads to St. Louis with Milwaukee needing at least one victory at Busch Stadium to ensure a return to the friendly confines of Miller Park.
Milwaukee struggled on the road this season, but still managed to go 4-5 at Busch Stadium as the two teams split their 18-game season series.
"Everybody talks about our home record, but we didn't go undefeated at home by any stretch," Brewers third baseman Jerry Hairston Jr. said following Monday's loss.." It's a loss, but we've just got to go on the road and bounce back."
The Cardinals have won 15 consecutive get-away day games, tabbing their travels "happy flights." However, those "happy flights" leave a little bit of a hangover. In the games after their last 14 "happy flights," the Cardinals have gone 4-10.
Still, the Cardinals left Milwaukee happy, and with the series taking a much different complexion than it had after Milwaukee's Game 1 victory. Now, Milwaukee has to go on the road and depend on a starter that has struggled against the Cardinals and two more that have not been very good in the playoffs.
"(Winning Game 2) was big to us. We're 1-1, that was big to win, just because they've done well (in MIlwaukee)," Cardinals outfielder Jon Jay said following Monday night's victory. "But it was big for us to fight back and get a win after (Sunday's) game."
A win behind Chris Carpenter would put the Brewers on the ropes and could set the stage for the Cardinals' next happy flight to be after Game 2 of the World Series.
PITCHER MATCHUP
Gallardo vs. Cardinals: Yovani Gallardo has certainly been the Brewers' best -- and only consistent -- starter in the playoffs, going 1-0 with a 1.29 ERA in his two starts against the Diamondbacks in the NLDS. The rest of the team's starters are 1-3 with a 11.54 ERA in the playoffs.
However, Gallardo was 1-3 with a 5.70 ERA in four starts against the Cardinals this season and is 1-7 with a 5.66 ERA in 11 career starts against St. Louis. Among his four starts against the Cardinals this season were his best and worst performances of the season. On May 7, he allowed just one hit in eight scoreless innings, but on Sept. 1 at Miller Park, the Cardinals tagged him for eight earned in 4 2/3 innings.
Carpenter vs. Brewers: The Cardinals' right-hander is coming off a masterful victory over close friend Roy Halladay in Game 5 of the NLDS. While Carpenter struggled in Game 2 start on short rest, but Carpenter is fully rested going into Tuesday's start.
Carpenter was 2-2 against the Brewers this season with a 3.86 ERA -- but he was 2-0 in two starts against the Brewers at Busch Stadium, including a four-hit shutout on Sept. 7.
Ryan Braun's struggled a bit against Carpenter, going 5 for 22 (.227) with a home run and six strikeouts. Prince Fielder is 8 for 26 (.308) with two home runs, five walks and eight strikeouts against Carpenter.
Pitching matchup advantage:



If both are on in Game 3, it should be the opposite of the slugfests we saw in Miwaukee. Even as Gallardo has developed into a frontline starter, Carpenter's history of success in big games (and on full rest) is too much to overlook.
LINEUPS
NOTES
In 23 of the last 42 NLCS -- including this one -- the loser of Game 1 has come back to win Game 2.
St. Louis' 17 hits on Monday night tied for the second most the team had ever collected in a postseason game. The Cardinals had 20 hits in Game 4 of the 1946 World Series against the Red Sox and 17 in Game 7 of the 1934 World Series.
With his ninth LCS home run, Albert Pujols is now tied with George Brett and Bernie Williams for the second-most in baseball history. Manny Ramirez holds the record with 13 LCS home runs. Pujols now has 14 career postseason home runs, tied with David Justice for eighth most in history.
Fielder's homer in Game 2 gave him four postseason home runs -- the most by any Brewer. Ted Simmons and Paul Molitor each hit three.
Former Cardinal and Brewer (and Royal and Red Sox and Diamondback and Pirate) Jeff Suppan will throw out the first pitch in Game 3 at Busch Stadium.
This series has been rain-free -- so far. Rain is predicted for gametime on Wednesday.
For more baseball news, rumors and analysis, follow @cbssportsmlb on Twitter or subscribe to the RSS feed.