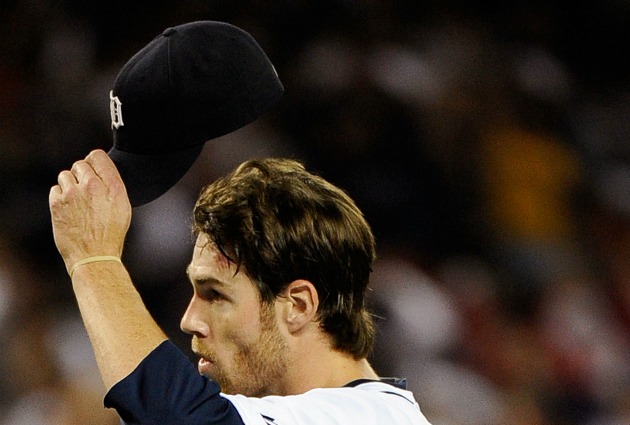 By Evan Brunell
DETROIT -- "I thought he put on a clinic."
"I thought he put on a pitching clinic."
"I thought it was a pitching clinic."
"Like I said, I thought he put on a clinic."
Naw, Jim Leyland, tell us how you
really
feel about
Doug Fister
's start Tuesday night.
As might be evident to you by now, Fister put on a clinic Tuesday night, baffling the
Rangers
over 7 1/3 innings to hand Detroit its first ALCS victory of the season, narrowing the series to a 2-1 edge in favor of Texas. It was an amazing performance by the righty, even as he saw three seeing-eye singles ding him for a run in the first, taking the air out of the crowd. By the time he left the game a couple hours later, the
Tigers
were in pole position to win the game.
"Good sink, good breaking ball, good command," manager Ron Washington raved about Fister after the game. "The first nine or ten pitches he threw in the ballgame were strikes. That's him. He attacked the strike zone. He's going to make you put the ball in play. He did a good job tonight. You have to tip your hat."
Fister's start was not only series-saving, it made history. He is just the sixth pitcher since 1990 to pitch at least seven innings and allow no more than two earned runs in his ALCS debut. The last pitcher to do so was Jon Garland in 2005. Fister didn't allow the Rangers to catch their breath, and even as a notoriously aggressive team, couldn't capitalize on any mistakes -- if there even were any -- by Fister. The strike-machine pumped 73 strikes into Alex Avila's glove, notching 102 overall. Despite racking up the strikes and facing a free-swinging team, Fister only collected three strikeouts, but he's fine with that.

"We were going to attack the zone with our fastball and keep it down and use the defense. We stuck with it," Fister said following the game. "I'm not trying to get strikeouts. I'm looking for contact and let's go deep in the game."

Everyone knows the story of Fister by now. He was a middling prospect when he debuted with the Mariners two seasons ago and was never thought to be much more than a back-of-the-rotation starter. But suddenly, he started getting better and better and drew the attention of GM Dave Dombrowski in Detroit, who kept trying to acquire Fister. He finally did so at the trade deadline, then saw Fister rip off a 1.79 ERA in 10 starts and one relief appearance. No one expects Fister to keep that up, but you won't see the Tigers complaining. He scuffled against the Yankees in the ALDS, but the team expressed confidence in Fister bouncing back and being the shutdown pitcher he displayed in the dog days of summer. He did just that, and left to a standing ovation from the crowd, tipping his cap multiple times.

"We're at home here in front of fans, and everybody is standing on their feet waving those white flags," Fister said. "It gives me goosebumps to remember walking off on that."

It's giving Tigers fans goosebumps to watch him pitch.

For more baseball news, rumors and analysis, follow @EyeonBaseball on Twitter or subscribe to the RSS feed.