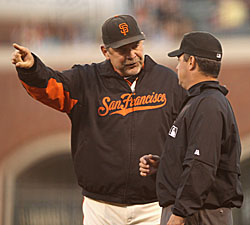 By Matt Snyder
The cursive scripted "San Francisco" logo -- pictured right, on
Giants
manager Bruce Bochy's jacket -- has been used by the San Francisco Giants since 1993, but neither the ballclub nor Major League Baseball ever got the logo trademarked. And now they're being sued for using it (
SFweekly.com
).
According to reports, back in March, a company called Gogo Sports of Hayward trademarked a nearly identical San Francisco script and then the Giants rushed to try and get their script trademarked in April. The Giants were denied, as the logos were deemed too similar.
Since then, the two sides have gone back and forth trying to avoid heading to court, but were unable to reach any sort of an agreement. So last month, Gogo Sports of Hayward filed a federal lawsuit in an attempt to get the Giants to cease and desist using the "San Francisco" script on any merchandise.
Considering the clothing company trademarked the logo in question first, it might seem the Giants will lose this battle. Think again.
Federal law "also protects unregistered trademarks," says Golden Gate University law professor William Gallagher (
SFWeekly.com
). "If the Giants have been using the script logo on their merchandise for years, it's likely they'll have strong trademark rights based on use alone."
So while Gogo Sports might have thought it was being savvy, it may very well end up costing itself in a big way in terms of time and money.
For more baseball news, rumors and analysis, follow @EyeOnBaseball on Twitter or subscribe to the RSS feed.