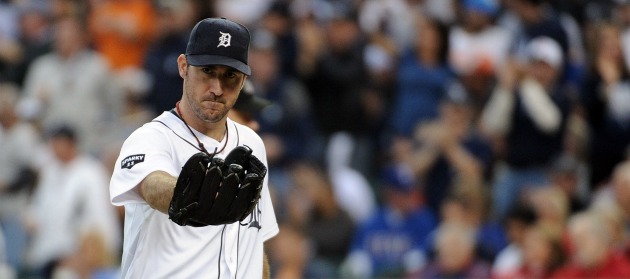 By Evan Brunell
DETROIT -- The Tigers stunned the Rangers with an offensive explosion in the bottom of the sixth to force the series back to Texas, winning 7-5. The Rangers still lead the series, 3-2.

Hero: Justin Verlander didn't have a very Verlander-ish start, but he came up nails in a must-win game for Detroit. The righty gutted through 133 pitches over 7 1/3 innings, allowing eight hits and three walks. His final line was marred by a two-run homer in the eighth. He pitched out of trouble constantly, though, adding eight strikeouts to his ledger and getting the Tigers to the ninth inning. While Detroit was unable to go with Joaquin Benoit or Jose Valverde in relief, the Tigers were cushioned by a five-run lead once Ryan Raburn chipped in a solo homer in the seventh. (Oh, I suppose Delmon Young bashing two homers was pretty heroic, too.)

Goat: T
he Rangers could be celebrating right now, and they might have been if
Ian Kinsler
wasn't so hack-happy. Verlander looked like he was on the verge of collapse in the top of the sixth, loading the bases by allowing a single, double and four-pitch walk to
Mitch Moreland
. There's no question Verlander was on the ropes, but Kinsler allowed him to get away scot-free by busting the first pitch down to third for a weak grounder that turned into a double-play.
Kinsler said the answer as to why he swung at the first pitch was simple. "I got a pitch I wanted to swing at," he said. "I'm looking for a fastball. I'm looking for a good pitch." And he hit it for a double-play.

Turning point: In the bottom of the sixth inning, Ryan Raburn opened the inning by rifling a single. Miguel Cabrera followed with what should have been a routine groundout down the line, but Adrian Beltre was playing behind the bag and watched the ball sail over his head after clipping off the base. Raburn came around to score the go-ahead run and things completely imploded from there.

It was over when... Delmon Young stepped to the plate with Detroit having taken a 4-2 lead. Young immediately drove a stake into the hearts of the Rangers by blasting his second homer of the game, a two-run shot that put Detroit ahead 6-2.

Next
: After four straight days of games, both teams will get a breather with an off-day on Friday. Game 6 will be played at 8:05 p.m. ET on Saturday, with
Max Scherzer
going for Detroit. The Rangers will counter with lefty
Derek Holland
, who was bombed in Game 2.
For more baseball news, rumors and analysis, follow @EyeonBaseball on Twitter or subscribe to the RSS feed.