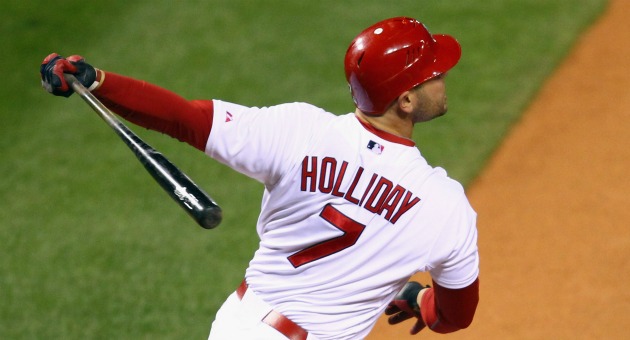 By C. Trent Rosecrans
ST. LOUIS -- Matt Holliday has hit bigger blasts than the 342-footer in the second inning of Game 4 of the National League Championship Series, but the solo homer had to be a relief for Holliday and the Cardinals.
The opposite-field homer off of Brewers starter Randy Wolf was his first homer in 58 at-bats; the last one coming on Sept. 6 against Milwaukee's Yovani Gallardo. Since then, he's had an issue with his hand that has sapped his power. Before the home run on Thursday, Holliday hadn't had an extra-base hit in the postseason and none since a double on Sept. 26 in Houston, the day before he left a game early when his hand began to hurt too badly to play.
Tony La Russa had moved Holliday from fifth in the lineup to fourth for Games 2 and 3 before moving him back to fifth for Game 4, batting behind David Freese. He filled a hole left by Lance Berkman, who wasn't in the starting lineup.
"He's caught between a rock and a hard place," La Russa said of Holliday. "He's missed some key at-bats. I think his hand is all right, but here he is trying to get his stroke and his timing in the most pressure you feel all season, and it's a little bit unfair. So I'm going to keep him out of that four spot, hit Freese there today. He does well against lefties, and then the rest of the time against the right, I'll hit Berkman, keep Matt fifth."
Holliday has started every game of the LCS so far and entered Thursday's game 3 for 10, but he was just having no success driving the ball. Not that he drove the ball too far in the second inning, as from the right field auxiliary press box I had a pretty good view and watched Brewers right fielder Mark Kotsay drift and drift until the ball went over the fence. But this isn't Rock 'N' Jock, so the distance is nothing more than bragging rights, what's matter is that it cleared the fence, not by how much.
For more baseball news, rumors and analysis, follow @cbssportsmlb on Twitter or subscribe to the RSS feed.