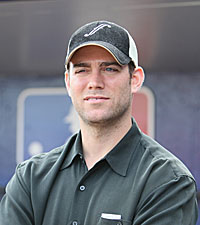 By Evan Brunell
With the departure of Theo Epstein, the
Red Sox
are faced with the most glaring void their organization has seen since the beginning of the franchise's recent upswing. And worse, it appears the only return they may get would be a paltry sum of cash or a couple of low-end players. And, even if those guys do contribute at the major-league level, they would be far from making up for the loss of a top-tier GM like Epstein.
Part of this reason, beyond the
Cubs
understandably balking at an exorbitant price -- they are trying to do their job, after all -- is that MLB is watching these discussions with a close eye, realizing that what occurs could set a precedent down the line for other similar GM defections. It appears as if baseball is trying to prevent GMs from being "traded" for anything close to free market value. Even managers have a difficult time of it, but at least there is precedent there, what with Ozzie Guillen shipped to the
Marlins
for three minor-league players and Lou Piniella going from Seattle to Tampa Bay for Randy Winn.
What is the problem here?
Why is baseball trying to prevent adequate compensation for Epstein? Moreover, why is it so bad for managers and GMs to be traded for equal value in return?
General managers have an incredible amount of responsibility on their shoulders and are forced to wear many hats. Not only do they have to juggle putting together a major-league team worthy of satisfying the fans and owners, they have to keep the farm system healthy, draft a new crop of players each season, negotiate contracts with players, coaches and scouts, maintain a budget and retain enough flexibility for future moves, and on and on. There's no question that a GM, these days, essentially shapes a franchise's present and future like no other person can, with lasting ramifications that can span years, if not decades.
And you're telling me that a GM can't be traded for an exorbitant price? Baseball may want to hold down GM compensation because it would add yet another layer of complexity to the proceedings, but is there any reason the Red Sox shouldn't be getting someone of commensurate value? Epstein not only completely and wholly changed the culture of the history of the Red Sox, he changed their status, market and player development. The boy wonder's accomplishments in Boston will bear fruit years after he's gone, and years after his successor, Ben Cherington, will be gone.
And somehow, accepting a reported $3.5 million or a couple tepid minor-league prospects is adequate compensation?
Imagine, for a moment, if you transformed Epstein into a player on the Red Sox Who would he be? Would he be backup outfielder
Darnell McDonald
? Or would he be first baseman
Adrian Gonzalez
, who will pull down an average annual salary north of $20 million?
Epstein's value is certainly far closer to Gonzalez than that of McDonald, and Sox president Larry Lucchino appears to understand that. He's submitted a list of players to the Cubs that he feels would be adequate compensation for Epstein's departure, and the latest reports have the Cubs blanching at the price.
But that's as it should be, and MLB shouldn't interfere and meddle with the affairs. By baseball trying to restrict compensation from Epstein, it's restricting a free trade market and is severely hampering Boston's ability to contend. And this is an issue that should be of concern not just in Boston, but in all 30 MLB cities. Paul DePodesta had the right idea back in 2003 when he asked for Red Sox prospect
Kevin Youkilis
in exchange for allowing GM Billy Beane to defect to the Red Sox before Beane changed his mind at the 11th hour.
Whether baseball likes it or not, the culture is slowly but surely marching toward a day where a GM's departure to another club will result in fair compensation, not a depressed price. Unfortunately for Boston, that day may not arrive in time to compensate for the man who changed baseball in Boston.
For more baseball news, rumors and analysis, follow @EyeOnBaseball on Twitter or subscribe to the RSS feed.