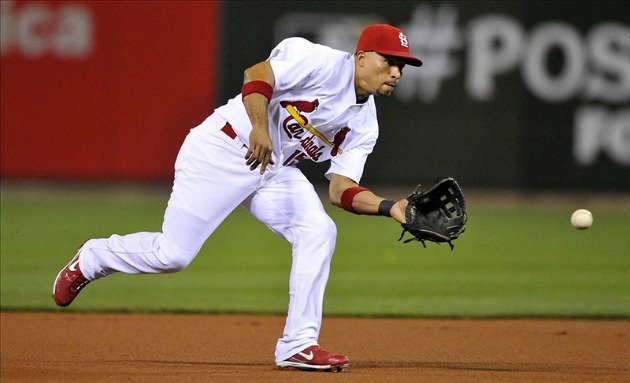 By C. Trent Rosecrans
ST. LOUIS -- Rafael Furcal has seen enough of St. Louis that he'd love to return in 2012 and beyond. The question is how much of a pay cut he'll be willing to take and if the Cardinals want him back.
"When I come here with Atlanta, or I come in with the Dodgers, I play those guys, I'm always in a big competition, and I love it here," Furcal said before Game 5 of the NLCS. "I love the fans and the players and everybody is on the same page and everybody wants to win. Who wouldn't want to play for one of the best managers in all of baseball?"
Furcal has been a definite upgrade defensively for the Cardinals, who had Ryan Theriot start 87 games at shortstop, resembling the statue of Ozzie Smith outside Busch Stadium than the Hall of Famer that patrolled the former incarnation of Busch Stadium.
However, despite hitting better than he did in Los Angeles (.197/.272/.248), Furcal hasn't lived up to his career numbers in either batting average (.282) or on-base percentage (.348), hitting .255/.316/.418 with St. Louis in 50 regular-season games and .200/.220/.325 in the playoffs. He has as many stolen bases as Lance Berkman and Yadier Molina.
Furcal will also turn 34 on Oct. 24, the scheduled day of Game 5 of the World Series. For a player who has based so much of his career on his speed, Furcal's age is a real concern. The Cardinals have a $12 million option for 2012, and that seems highly unlikely to be picked up. His three-year, $30 million contract runs out after this season and will likely be granted free agency.
Are the Cardinals better with Furcal than without him? Yep. And he could be a decent pickup, and he certainly wouldn't be the first player to resurrect his career playing for Tony La Russa, but in the end it comes down to the biggest question in the offseason -- is the price right?
For more baseball news, rumors and analysis, follow @cbssportsmlb on Twitter or subscribe to the RSS feed.