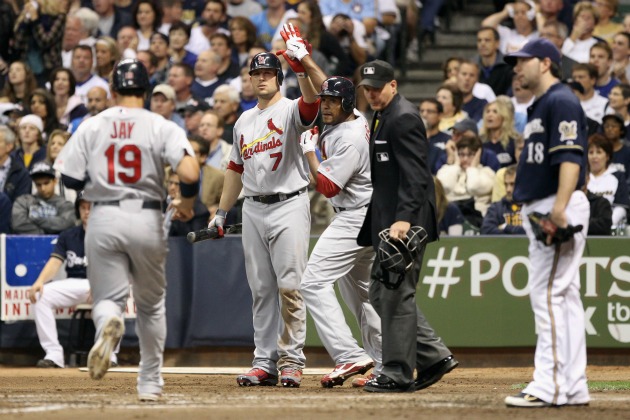 By C. Trent Rosecrans
Cardinals at Brewers, 8:05 p.m. ET, Miller Park, Milwaukee. Cardinals lead series 3-2.
MILWAUKEE -- For the first time in probably two months or so, the St. Louis Cardinals have some breathing room. For a team that needed every single victory (and every single Braves loss) to just make the playoffs, St. Louis also trailed 2-1 in the National League division series against the Phillies and now actually have a game up on the Brewers and aren't in a "must-win" situation for once. But don't tell that to Cardinals manager Tony La Russa.
"One of the neatest things about what's happened to our club from whenever we started smelling a chance to get into the eight-team playoffs, was we took the attitude that tomorrow is the last game of our lives, which means you don't think about anything beyond that," Cardinals manager Tony La Russa said. "And that's really helpful. It's solved a lot of problems, therefore, have no thought about Game 7 and what happens, other than we're playing tomorrow. It's the last game we're ever going to play. And don't want to have any regrets when it's over. If the Brewers beat us, you tip your hat, hey, we did the best we could and you beat us. Not thinking about anything beyond our best shot tomorrow."
Game 6 on Sunday will be a rematch of the Game 2 blowout at Miller Park with Edwin Jackson taking the hill for the Cardinals and Shaun Marcum for the Brewers. Marcum and the Brewers bullpen were battered around a bit by the Cardinals in a 12-4 victory last Monday, while Jackson and the Cardinals bullpen did enough that there was little drama in the Brewers first home loss of the postseason.
A victory by the Cardinals would not only send them to the World Series, but avoiding a Game 7 would allow Chris Carpenter to start Game 1 of the World Series. Because of his heroics in Game 5 of the NLDS against the Phillies, Carpenter didn't get a chance to pitch until Game 3 of the NLDS.
WHO HAS THE EDGE



By just about any mark, the Cardinals have the advantage with their pitching -- as Jackson has better stuff and has pitched better recently than Marcum. Several Milwaukee players said they felt Marcum was "due," but that's not exactly how baseball works.
Still, this series has proven nothing if not unpredictable, at least as far as starters go. No Cardinals' starter has pitched six innings and the Brewers' best starter was Randy Wolf, who was absolutely shelled in the NLDS. The St. Louis starters have a 6.04 ERA in the series and the Brewers are hitting .340 off of the St. Louis starters.
What does give the Cardinals another edge is not just their bullpen, but La Russa's ruthlessness to go to the bullpen and use the eight relievers he stockpiled on his postseason roster. This is October, La Russa doesn't care about his starters' feelings, he's just going for the throat of the Brewers, and so far it's worked.
Cardinals' Edwin Jackson: Jackson allowed two runs and picked up a no-decision in the Cardinals' 12-3 victory in Game 2, and despite joining the Cardinals at the trade deadline, he will be facing Milwaukee for the fifth time in a Cardinal uniform. In the regular season, he was 1-1 with a 4.95 ERA in three starts.
"I don't think either team has an advantage -- there's neither advantage for a pitcher or the batters (with the familiarity)," Jackson said on Saturday. "I mean there's no secret what I have, there's no secret what they can do. It's just a matter of execution. Whether they hit pitches that you miss or whether you throw pitches where you want to and get outs, it's just one of those things where you're not going to change up the game. I'm not going to change up my game plan, go out and attack the strike zone and take my chances with them putting the ball in play."
The current Brewers are hitting .295/.346/.525 off of Jackson, but he's been good against Prince Fielder (2 for 13) and Ryan Braun (3 for 12). Casey McGehee had a three-home game off of Jackson in the regular season, but will not be starting.
Brewres' Shaun Marcum: Marcum is well aware of his recent failings -- Marcum hasn't gone five innings in any of his last three starts and he's allowed at least five earned runs in five of his last six starts.
"There was more than a couple rocky ones heading into, but feel good, arm feels good, body feels good. Just a matter of going out there, keeping the ball down, throwing strikes and trying to get ahead of these hitters," Marcum said. "They've swung the bats well all year long. They've got one of the best offenses obviously in the National League but in baseball, so gotta go out there and make pitches against them."
But it's not as if he's a total basket case, Marcum was one of the team's best starters during the regular season, winning 13 games and throwing 20 quality starts.
"I think the starting pitchers, for example, and the relievers, too, have all proven, including Marcum in Game 2," La Russa said. "When they're making their pitches, they're real good offense on both sides, they're not centering the ball, they're making outs. But these are two very dangerous offenses, and if you happen to get a pitch in the middle against either side, you get damaged quite often. So he's going to try to avoid the middle. He's a pitcher, not a thrower, so is Edwin. If he has good command, he's tough to deal with. Same with Edwin. There's within some skewed numbers, because we got to their bullpen in Game 2. But they got to ours in Game 1. If you look at when either team pitches good, start, our back end, hitters aren't having any fun. He can do that, but hope he doesn't."
LINEUPS
NOTES
The roof at Miller Park will be closed. It is expected to be 52 degrees at game time, and dropping into the 40s during the game. The roof was open for the first two games of the series at Miller Park.
St. Louis is 22-19 all-time in potential clinching games.
Before Yadier Molina's second-inning RBI double in Game 5, the Cardinals had gone hitless in their previous 22 at-bats with runners in scoring position.
Braun has no reached safely in the first inning of nine straight postseason games, the longest such streak in baseball history.
The Brewers' four errors in Game 5 were the most in an LCS game since Atlanta had four in Game 4 of the 2001 NLCS against the Diamondbacks. Second baseman Rickie Weeks has four errors this postseason, there have only been two other errors by second basemen in the postseason. The last second baseman to have five errors in a single postseason was Milwaukee's Jim Ganter in 1982.
For more baseball news, rumors and analysis, follow @cbssportsmlb on Twitter or subscribe to the RSS feed.