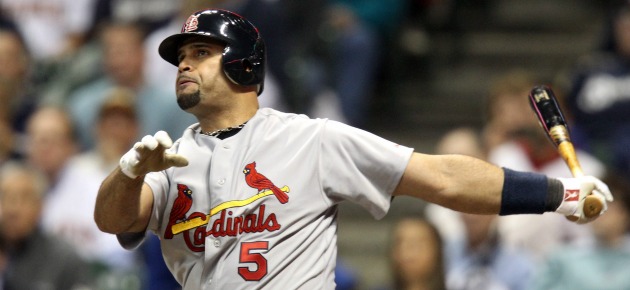 By Evan Brunell
The four big-ticket items slated to hit the free-agent market may be in for a rude awakening.
Albert Pujols
,
Prince Fielder
,
Jose Reyes
and
C.J. Wilson
have been expected to receive healthy contracts, but unless each of them is willing to head to a lesser competitor than the top dogs that threaten every year, it figures that the total value of the contracts signed will come in well under what was projected. Wilson might not reach $100 million. Pujols may not crack the $30-million annual salary barrier. Fielder might not even match
Adrian Gonzalez
's new contract in Boston. Reyes might struggle to get five years, but he'll still have more money than he'll know what to do with once he signs.
There are a multitude of reasons why, but in the cases of Fielder and Pujols, it's because there is simply not a great demand for their services, by virtue of hitting free agency at the wrong time. Boston, the
Yankees
,
Mets
,
Angels
,
Dodgers
,
Rangers
,
Giants
,
Cubs
... all may pass on either first baseman due to money problems, no open spots or simply not fitting within the club's process at the moment. (Especially the Cubs -- Chicago painfully needs to rebuild and unless Fielder or Pujols lands in the lap of incoming GM Theo Epstein, there's zero chance Epstein will give up draft picks.)
Wilson may have a better time of it by virtue of being a left-handed starter that could attract the
Red Sox
, Yankees and Angels to name a couple, but even he's suffered a beating in perception as of late, struggling through the postseason thus far and better profiling as a mid-rotation starter that is being lifted up by virtue of a stagnant free-agent crop. But even he could fall shy of $100 million, a demarcation line that has long been bandied about for the Ranger. And Reyes has his problems with injuries and inconsistency that will tamp down his market.
If any of these four players want to hit benchmarks -- Pujols signing the richest contract for annual value, Fielder besting Gonzalez and Wilson netting triple digits, Reyes grabbing five or six years -- they may have to follow in the footsteps of
Jayson Werth
, to name a recent example. Werth inked a deal worth $126 million to join Washington in a stunning turn of events last winter, a contract that met with instant incredulity from all sides, and no wonder. But if the
Nationals
wanted to announce themselves as true players instead of wallowing in the dregs of wannabe contenders, they had to make that leap, just like the
Tigers
had to throw gobs of money at
Magglio Ordonez
and
Ivan Rodriguez
following their 119-loss debacle in 2003. (These contracts ended up onerous by the end, just like Werth's is and will, but it put Detroit on the map and the club has been better for it since.)
A similar process could unfold this year, and the Nats could be in the thick of things again, having been linked to Wilson and possibly even going after Pujols or Fielder. The
Blue Jays
, meanwhile, are expected to eventually skyrocket their payroll north of $100 million and that could begin as early as this year with a play for Pujols or Fielder. The
Royals
have stated an interest in playing in the market and bringing in a starting pitcher -- that would mean Wilson. The
Orioles
have been linked to Fielder for years now; the
Mariners
may attempt to solve their offensive problems in one fell swoop; the
Brewers
could replace Fielder with Reyes; the list goes on -- and none of these teams are anyone's idea of a big-market power dominating year in, year out.
And this is a good thing. A's GM Billy Beane has said before that he sees baseball morphing into what soccer has become overseas, with a handful of "superfranchises" dominating the landscape, leaving other teams to pick up the scraps and the occasional joyful run in October that the superfranchises will consider their birthright.
But the more these players filter out to the clubs not synonymous with cash, the better off the sport will be. More fans in more locales will have heightened interest in their local teams, both due signing these players and the eventual (at least, one hopes) winning to follow. Hey, these clubs flush with cash have enough advantages, which shine through in player development and club personnel.
So as you log onto CBSSports.com this winter and see a headline of Wilson landing in Kansas City, Reyes in Milwaukee, Fielder in Baltimore and Pujols remaining with St. Louis, don't bemoan the Yankees or Red Sox missing out. Baseball's better for it.
For more baseball news, rumors and analysis, follow @EyeonBaseball on Twitter or subscribe to the RSS feed.