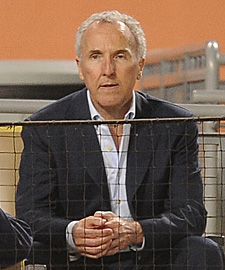 By Evan Brunell
The
Los Angeles Times
reports that
Frank McCourt has reached an agreement
with ex-wife Jamie to assume full control of the
Dodgers
.
Jamie is expected to receive $130 million in exchange for dropping her contention that she is co-owner of the Dodgers. This would be a major step toward Frank retaining the team in its bankruptcy battle with MLB, as Jamie's absence from the proceedings would clear the way for Frank to sell the television rights to the club, using the revenue to fund the team. He would have been unable to keep the team unless he beat both his ex-wife and baseball. Removing Jamie from the equation simplifies matters greatly.
The settlement will position Frank McCourt to engage in a head-on battle with commissioner Bud Selig to keep the team. McCourt still has a ways to go in the proceedings, however. For one, he will have to be able to use revenue from any television deal struck to complete his divorce settlement, which Selig originally rejected, setting up the path of events to come. Selig and Fox Sports do not want McCourt to be able to auction off TV rights, which McCourt is asking the court to allow so he can raise money.
For more baseball news, rumors and analysis, follow @EyeonBaseball on Twitter or subscribe to the RSS feed.