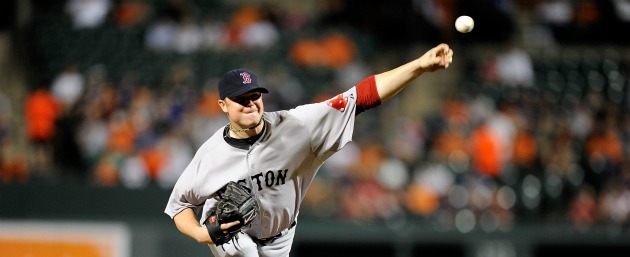 By Evan Brunell
One of the
Red Sox
players accused of drinking beer in the clubhouse has come out and admitted such.
"It was the wrong thing to do,"
Jon Lester
told the
Boston Globe
, saying he was one of the players to drink beer in the clubhouse this season -- but never on a day he pitched, and far less often than has been suggested.
"It was a ninth-inning rally beer," he said, shades of
A.J. Pierzynski
's own
explanation for drinking while on the job
with the
White Sox
. "We probably ordered chicken from Popeye's like once a month. That happened. But that's not the reason we lost."
"Most of the times, it was one beer, a beer," Lester added. "It was like having a Coke in terms of how it affected you. I know how it looks to people and it probably looks bad. But we weren't up there just drinking and eating and nobody played video games. We watched the game."
More on Boston Red Sox
Beer-gate
Theo Epstein
Related links
Lester says the reason the Red Sox lost was because "we just played bad baseball as a team in September. We stunk. To be honest, we were doing the same things all season when we had the best record in baseball."
However, by the same token, the lefty also admits that the occurrence was a bad habit and he should have been on the bench more. How can he say, then, that drinking beer and secluding himself in the clubhouse had no impact on the club's fortunes? It's a pretty vague statement to make, but isn't it possible the loss of solidarity and gelling of the team -- which outgoing manager Terry Francona cited as a problem -- contributed to September's downfall?
"Are there things I regret? Sure there are," he added. "But nothing happened that had me unprepared to pitch. I don't blame people for wanting answers because we had a hell of a team and we lost. You can't have a team that gets paid like we get paid and loses and not expect people to want answers."
Speaking of Francona, Lester admitted that it was time for a change.
"I love Tito and he did a great job for us when he was here. On a personal level I was more than grateful for what he did for me and my family," he said. "But there comes a time when your authority is no longer there. You kind of run your course. People who knew how Tito was and we pushed the envelope with it. We never had rules, we never had that iron-fist mentality. If you screwed up, he called you on it. That was how it worked.
"I never say guys [were] purposely breaking rules or doing the wrong thing in front of him and rubbing it in his face. But this particular team probably needed more structure."
Lester didn't feel comfortable speaking for the others accused in the fiasco, such as
Josh Beckett
and Jon Lackey and others, but felt he had to speak out in light of all the stories.
"We're not bad people and we're not a bad group of guys," he said.
Lester spoke at length with the
Globe
, also touching on the issue of player conditioning and the accusation that players allowed themselves to get out of shape.
"It's probably because of how we eat," he said of why pitchers gain weight as the season progresses. "We have some crazy hours with the travel and you get in at 4 a.m. and you get room service or something quick. But unless your body fat is going up 10 percent or something like that, you don't have a problem.
"I've heard what people are saying in Boston. I can tell you that guys were in the weight room. Guys were doing their shoulder [exercises] and guys were prepared to pitch. If we win a few more games in September and make the playoffs, none of this comes out. But we didn't and that's on us as a team and on me personally. I take a lot of the blame for this, a lot."
As part of the solution, Lester thinks high-character players are needed, citing Alex Cora, Eric Hinske and Sean Casey as previous influencers.
"We need that good veteran presence," he said. "If you have somebody like that, it makes everybody better. Everybody is accountable and we have plenty of people to look up to. That's not the problem. But we have a lot of guys who are kind of middle-aged in terms of their careers. Sometimes you need veteran guys who know their roles and can reach out to everybody."
For more baseball news, rumors and analysis, follow @EyeonBaseball on Twitter or subscribe to the RSS feed.