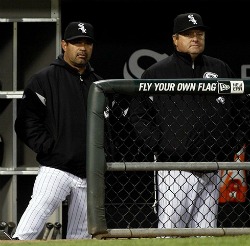 By C. Trent Rosecrans
Chicago just can't quit Ozzie Guillen.
And can you blame him? If you're a columnist, just call him up and you've got a story (I can't quit him, either). The latest has the Marlins manager lashing out at his former pitching coach, Don Cooper. Two weeks ago Cooper said he signed an extension with the White Sox without Guillen getting a deal because Guillen allegedly told management to "let (the coaches) sweat" when asked by general manager Ken Williams about extensions.
Guillen lashed back on Monday, talking to the Chicago Sun-Times' Joe Cowley, saying, "Cooper needs to look in the mirror. He didn't back-stab me. I know who he is. He back-stabbed his fellow coaches, the guys he worked with for years. You got family? That's fine. Everyone does. We all knew Coop was Kenny's (expletive deleted, but suffice to say it refers to a gender of canine).
"Look, Coop is not a good coach; he's a great coach. But Coop is Coop. He doesn't worry about anyone; he worries about himself. I stuck up for my coaches like a (expletive deleted, but it's two words, the first being mother).
"I told [the White Sox] I want to keep my coaching staff, and I never lied to the media. I talked to Jerry Reinsdorf maybe five times [about extensions for the coaches]. The reason I was so comfortable with the Sox was the coaches. Let them sweat it out? Coop was Kenny's guy, and my staff knew that. We all know what he really is."
Guillen did say he was happy for the White Sox and new manager Robin Ventura -- "the Sox picked the right guy," he told Cowley.
For more baseball news, rumors and analysis, follow @eyeonbaseball on Twitter or subscribe to the RSS feed.