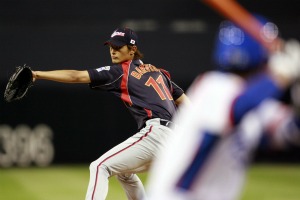 By C. Trent Rosecrans
We've all seen this before -- something's expected, a report comes out that it's going to happen, the principal comes out and says no decision has been made, decision is announced later and it's exactly what we expected to happen all along is going to happen.
Well, that's playing out in Japan right now with Yu Darvish.
The 25-year-old right-hander for Japan's Nippon Ham Fighters (for the record it's Nippon Ham as the sponsor of the team, and Fighters is the nickname) is going to be posted, Kyodo News in Japan reports (via Mainichi Daily News).
However, Darvish has tweeted that those reports are false and that he'll share any decision with his fans when his decision is made, according to YakyuBaka.com.
Darvish's Fighters are still alive in Japan's postseason, so it's unlikely he'd announce his intentions before the season is done.
Darvish was 18-6 with a 1.44 ERA this season -- marking the fifth straight year he's had an ERA under 2.00 in Japan. He struck out 276 batters in 232 innings. The Rangers, Yankees and Blue Jays have all been said to be the most interested in Darvish, who will command a large contract -- and a large posting fee.
It does appear, however, if he asks, the Fighters will post Darvish.
"If he wants to play at a higher level, then that's his wish," Nippon Ham owner Hiroji Okoso told Kyodo News.
Darvish will probably be playing stateside next season and should be one of the most sought-after players on the market. However, the arcane posting system -- which has all teams interested submit blind bids for just the rights to negotiate with a player -- will make things more interesting, that's for sure.
For more baseball news, rumors and analysis, follow @eyeonbaseball on Twitter or subscribe to the RSS feed.