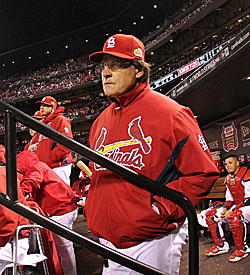 By Matt Snyder
ST. LOUIS -- Depending upon whom you talk to,
Cardinals
manager Tony La Russa is a either mastermind or an overmanager. Whether it's using three relievers in one inning, double-switching or going with defensive replacements, he always seems to be doing something. This postseason, nearly every button he has pushed has worked out, including when he left in
Marc Rzepczynski
to face two righties Wednesday night.
It just seems like some are too eager to heap tons of praise or blame on each individual move. It's the players who produce the results.
"Mostly it comes down to you make a move; if it works, hey, what a good move," La Russa said Thursday afternoon. "If it doesn't work, what was he thinking? He should have done something else. That's just the name of the game."
"If (
Esteban German
) would have got a hit, then it would have been a good choice (by
Rangers
manager Ron Washington), and I would have would have been asked, why did I (not) bring (Octavio) Dotel?"
And he's right. All the questioning of Washington after the game and the praising -- gushing, from some -- of La Russa is all based simply on the outcome, not on why the move was made at the time. It's all second-guessing.
Generally speaking, though, La Russa's use of so many different relievers in any situation has the bullpen on alert at all times, and maybe that's a good thing. They're always ready.
"When the phone rings, everybody is prepared, everybody is ready to go and everybody is ready to go out there and do their job," said
Arthur Rhodes
.
"When I came over here, everybody said the bullpen was struggling a little bit, but now you look at this bullpen now, everybody is going out there and doing a great job," Rhodes added.
So now you have the butting of the heads of the La Russa method and the recent convention -- which is to have a seventh-inning guy, an eighth-inning guy and a closer.
Jason Motte
is being used as the closer, but otherwise anyone could see action in any inning.
And at the end of the end of the day, when the pitchers pitch well, La Russa is a genius. If they don't, he's just overmanaging and his guys don't know their respective roles. Either way, he doesn't seem to mind.
"I've been told this a long time ago," La Russa said. "The compliments and the criticism, basically you just ignore them."
For more baseball news, rumors and analysis, follow @EyeOnBaseball on Twitter or subscribe to the RSS feed.