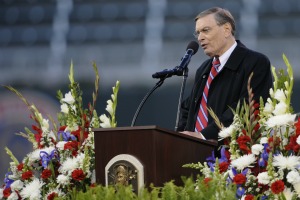 By C. Trent Rosecrans
Bud Selig said Thursday playoff expansion could still happen as soon as 2012, and also that he is worried about the attendance in Tampa Bay, as MLB's commissioner spoke to Christopher Russo on SiriusXM's Mad Dog Radio.
"I have, if we can work all the details out, as it's part of the labor negotiations, I have hope that the wild card thing -- if we can work it out -- is ready for next year," Selig said.
When asked if he was optimistic that it could be agreed upon in time to be implemented for 2012, Selig said he was "optimistic" and that the deal would have to be done by Thanksgiving.
As for the Rays, Selig was less optimistic. He was asked about owner Stu Sterberg's postseason letter to season ticket holders saying he was worried about the team's attendance.
"I like (owner) Stu Sternberg a lot, as you know. I have a great deal of respect for him. He's a very thoughtful, very interesting guy, done a great job there, done a brilliant job there," Selig said (via the St. Petersburg Times). "I, too, am concerned about their attendance. I track attendance every day. He knows it. I've talked to him a lot. They are a wonderful organization, produced a terrific team this year and finished last in the American League in attendance. I'll let you draw your own conclusion. That's bad."
Selig was asked if the stadium situation in Tampa Bay was a "lost cause."
"I can't answer that yet, but I'm usually an optimist and I don't have any reason to be too optimistic," Selig said.
Orlando's mayor spoke to the city's ABC affiliate, WFTV, and was asked if he would be receptive to the Rays relocating to Orlando.
"I'd certainly answer, and I'd want to explore that opportunity," Buddy Dyer said (via the Tampa Tribune).
He also said, "I think Major League Baseball could do better in Orlando." But Dyer said he'd really like an NFL team (good luck).
However, Dyer said he wouldn't negotiate with the Rays unless negotiations in the Tampa Bay area failed and a spokesperson told the Tribune that Orlando has made no effort to lure the Rays.
Selig also said instant replay could be expanded to include fair and foul balls, but not other plays. He also said he may have to decide what kind of compensation the Red Sox get from the Cubs for Theo Epstein.
For more baseball news, rumors and analysis, follow @eyeonbaseball on Twitter or subscribe to the RSS feed.