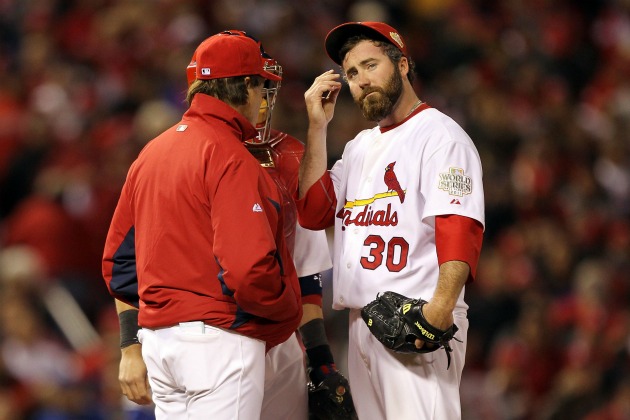 By Matt Snyder
ST. LOUIS -- The
Rangers
came through in the ninth inning offensively and all game with pitching and defense. The result was a 2-1 victory, and the series is now tied as it shifts to Texas for three games. Here are some of the post-game notes and quotes from Busch Stadium.
• "I knew there was a lot of talk about the starting pitching not being up to par, but I'll tell you, these last two (games), I think the starting pitching has shown what they're capable of doing." - Rangers manager Ron Washington.
•
Elvis Andrus
' big single in the ninth broke an 0-for-8 mini-slump.
• "I've got to say those of you that have bad hearts, watch yourself." - Washington on the drama in the series thus far.
• "They caught a break with a blooper, but after that they did some good classic baseball stuff to make two guys come around and score. They deserve credit for how they played in the ninth inning offensively." Cardinals manager Tony La Russa.
• "No, not really. You know, load the bases, that's a really difficult thing to do," La Russa said, when asked if he considered walking Hamilton in the ninth and keeping Motte in the game. "We thought we could get -- we had a chance to do something with Hamilton with Rhodes, maybe they score a run but they don't advance the other guy, and he did a good job. That's what I'm telling you, he pulled a ball, so he got a run in, got a guy over and Young did a very good job getting the ball to the outfield. I don't think walking him there would have made it easier for us. I think it would have made it tougher."
•
Jaime Garcia
of the Cardinals was the first Mexican-born starting pitcher in the World Series since Fernando Valenzuela took the ball for the
Dodgers
in 1981.
•
Ian Kinsler
, when asked about how safe he was on his late stolen base: "Enough. I mean, my hand just barely got in there. It took everything I had. Yadier made an unbelievable throw, quick, on the money, and I was just able to get my hand in there."
• Remember, the Rangers lost Game 1 of the ALDS and then went on to win five straight games over the course of two series.
• The Cardinals are 4-2 on the road this postseason.
• "If he tells me he can play, I'm putting him in the field. All I can say is I know my players better than you guys." - Washington, responding to the sentiment from some that
Josh Hamilton
shouldn't be playing.
• "Up and down our lineup our guys want to win ballgames, and it doesn't matter if we're down five runs or we're up five runs. We have the attitude of, you know what, until the last pitch is thrown, last out is made, we're going to keep fighting. You know, you can't really say why that is other than the character of the guys on our team." - Hamilton, on the Rangers' fight all the way until the end of the game.
• I walked right by Hamilton in the hallway after his press conference interviews, and he had a massive ice bag on his injured groin. He was laughing, too, so evidently he agreed that it looked hilarious.
• Hamilton on the current state of his health: "It is what it is. I'm tired of talking about it. I'm going to hurt until the season is over. You know, so it's a non-issue as far as talking about it. So stop asking me, please."
For more baseball news, rumors and analysis, follow @EyeOnBaseball on Twitter or subscribe to the RSS feed.