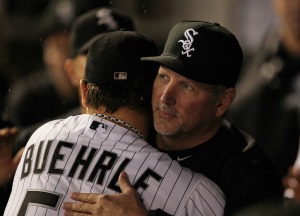 By C. Trent Rosecrans
Former White Sox hitting coach Greg Walker will become the Braves' third hitting coach in the last three years, the team announced on Friday.
Former hitting coach Larry Parrish was fired after one year following the Braves' September collapse.
Walker is a Georgia native who spent the last 8 1/2 seasons as the Chicago hitting coach. He resigned after the 2011 season.
"I realized my shelf life, or whatever you want to call it, in Chicago was over," Walker said. "We had a good run there, but it became obvious there was time for a change. I felt like it was time to move on. When the Braves job came open, it was obviously one I would covet.
Scott Fletcher will serve as Walker's assistant, preparing advanced scouting reports before each series. He will replace an advance scout, doing all the work off of computer instead of an advance scout on the road.
"It's someone to help out daily on the field and do more advance work, so you can do more in-game and in-series adjustments because you have someone in the clubhouse who is familiar with the adjustments the other team is making as opposed to having your advance scout in the next season," Braves general manager Frank Wren said.
Fletcher has also known Jason Heyward since the Braves' outfielder was 12 years old, when Fletcher's son was on the same team as Heyward.
Walker said he's always used an assistant hitting coach, even if that person didn't have that same title.
For more baseball news, rumors and analysis, follow @eyeonbaseball on Twitter or subscribe to the RSS feed.