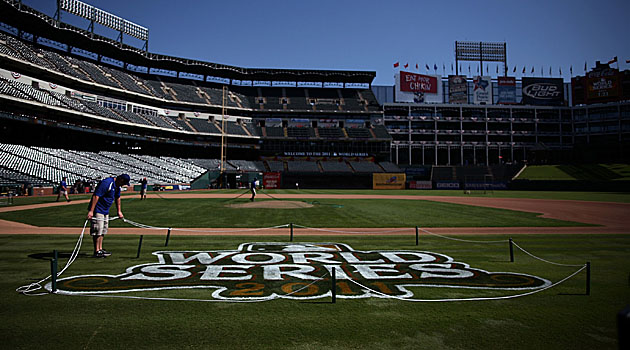 By Matt Snyder
Rangers at Cardinals, 8:05 p.m. ET, Rangers Ballpark, Arlington, Texas. Series is tied 1-1.
ARLINGTON, Texas -- Can two slumping offenses magically reappear to what they were heading into the World Series? Of course they can, simply by taking the flight from St. Louis to Dallas-Fort Worth. First of all, the temperature will be about 20 degrees higher, give or take a few. Secondly, Rangers Ballpark in Arlington was the top offensive stadium in the majors for both runs scored and home runs this season, while Busch Stadium rated out as a pretty significant pitcher's park this year.
The Cardinals aren't denying the difference.
"The ball does carry here, and you're going to have some danger if you don't hit your spots," Cardinals manager Tony La Russa said Friday in Arlington.
"It's a tough place to pitch, especially when you see those flags blowing in," said St. Louis' Game 3 starter
Kyle Lohse
. "It usually means that jet stream is going out to right-center. I think everyone in the league knows that. Coming in you've got to keep the ball down, especially against this lineup."
Oh, and of course the pitchers look a bit different. While we've seen recent struggles from
C.J. Wilson
of the Rangers and
Jaime Garcia
of the Cardinals, there wasn't much question the two had the ability to provide some quality innings.
Colby Lewis
has a great postseason history and
Chris Carpenter
is, well, Chris Carpenter. So when you factor in the weather and ballpark, it shouldn't seem a complete shock that the first two games were mostly a pitcher's paradise. The Game 3 starters aren't awful by any stretch, but they're a step down from what we saw in the first two games. And the conditions for them are the complete opposite of what the pitchers had in St. Louis.
Simply: The scoreboard operator is likely to be busy.
PITCHING MATCHUP

Harrison vs. Cardinals:
The 26-year-old left-hander was 14-9 with a 3.39 ERA and 1.28 WHIP this season and he's 1-0 with a 4.22 ERA in two postseason starts. Like I said, he doesn't suck. He has never faced the Cardinals and no St. Louis hitter of relevance has a large enough sample size to draw any conclusions.
Lohse vs. Rangers:
The 33-year-old right-hander was 14-8 with a 3.39 ERA and 1.17 WHIP this season. Eerily similar numbers to Harrison.
In 52 2/3 career innings against the Rangers, Lohse has been dreadful. He has a 6.66 ERA, 1.67 WHIP and has coughed up 14 homers.
But.
He hasn't seen them since 2006 or gotten hit hard by the Rangers since 2005. He doesn't really know these Rangers well, other than
Michael Young
. Young vs. Lohse has taken place 31 times. Young is hitting just .233 off Lohse, but four of his seven hits are of the extra-base variety, including three homers.
Adrian Beltre
has homered of Lohse, but it's his only hit in nine tries.
Ian Kinsler
is 0-for-2 and
Mike Napoli
is 0-for-5.
LINEUPS
NOTES
• With Harrison being left-handed, that means switch-hitting Lance Berkman will be hitting from the right side of the plate. Berkman hit .307 with a .998 OPS left-handed this season, but just .277 and .804 as a right-hander. Berkman is 0-for-3 against Harrison in his career.
• It's worth noting that Harrison's ERA during the regular season was nearly a run worse at home than on the road.
• Lohse has been terrible this postseason, racking up 13 hits and eight earned runs in just 9 2/3 innings pitched across two starts. And he now gets to face a better offense in a better hitter's park.
• Cardinals supersub Allen Craig is 5-for-10 with a home run and five RBI in the NLCS and World Series. He's now going to be in the lineup for three games as things shift to the AL ballpark, with Craig taking right field and Berkman moving to DH. That is a huge advantage for the Cardinals, as they add Craig's bat to the lineup while the Rangers only get to add either
Mitch Moreland
or Yorvit Torrealba. So the designated hitter rule ends up helping the National League team, who is only using it because the American League team is at home. Definitely an interesting twist as the games shift to Texas for three.
For more baseball news, rumors and analysis, follow @EyeOnBaseball on Twitter or subscribe to the RSS feed.