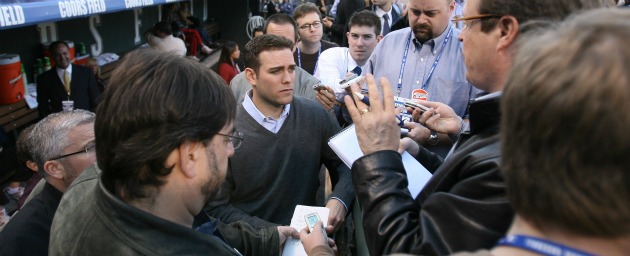 By C. Trent Rosecrans
The Cubs and Red Sox have released a joint statement to announce Theo Epstein has resigned from his position as the general manager of the Red Sox to become the President of Baseball Operations for the Cubs, effective immediately. An official press conferences will be held on Tuesday, both in Chicago and in Boston. Epstein will be introduced in Chicago, while the Boston news conference will be to name Epstein's successor, expected to be current assistant GM Ben Cherrington.

While the teams have not agreed upon compensation, they have "reached an agreement regarding a process by which appropriate compensation will be determined for the Red Sox and that issue will be resolved in the near term."


While it's been expected for about a week that Epstein would take over the Cubs, but the issue of compensation has held up the deal. Although the deal may be done, it won't be announced until Tuesday because Major League Baseball will not allow teams to make major announcements during the World Series, or at least on the same day as games. Tuesday will be the next travel day, if the series isn't wrapped up in five games -- and if it is, Tuesday would be the first day after the World Series.
Epstein is expected to be joined in Chicago by Padres general manager Jed Hoyer, who will hold the same title with the Cubs. Former Diamondbacks GM Josh Byrnes is expected to take over in San Diego. There's still the question of whether the Padres will require compensation for Hoyer's departure, something CBSSports.com senior writer Scott Miller reported earlier was expected. The San Diego Union-Tribune reported Friday that the Padres have granted the Cubs permission to speak to Hoyer and assistant GM Jason McLeod. Dan Hayes of the North County Times tweets that the Padres and Cubs have already agreed to a list of Cubs prospects for the Padres to choose from for compensation and that besides Hoyer and McLeod, no other Padres officials will be headed to Chicago.
For more baseball news, rumors and analysis, follow @eyeonbaseball on Twitter or subscribe to the RSS feed.