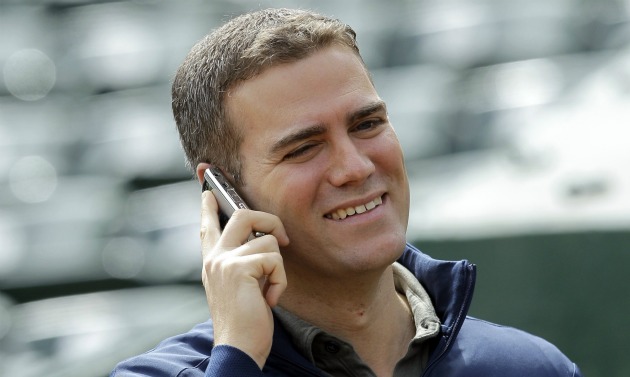 By Evan Brunell
The
Red Sox
empire was torn asunder Friday night as Boston, in a joint press release with the Chicagop
Cubs
, officially announced that GM Theo Epstein was resigning in Boston and signing on in Chicago.
No one could have imagined this when the year began: the Red Sox's disgraced team stumbling to the end, capping in a sullen
Jonathan Papelbon
departure from the mound, claiming the lives of Terry Francona, who aged 50 years in eight seasons, and boy wonder Epstein, who is hightailing it to Chicago, desperate for a challenge. The Red Sox, who had once won two rings in a four-year span and looked like a superfranchise for a while there, couldn't hold together under explosive circumstances and, and have detonated spectacularly. Beer drinking. Clubhouse problems. Conditioning issues. Then, Francona, a manager who may or may not have had ownership backing walked away, followed by the greatest architect in BoSox history. Epstein, departs for a challenge that could land him in the baseball annals for life ... if he makes good.
And yet, funny thing is, the Red Sox will be just fine.
There is rightful doom and gloom in Boston these days. This Red Sox team will be rememberd for a long time, and not in a complimentary way. But despite the beating the Red Sox have sustained this offseason, there is still plenty of light, too. For one, the ownership is still here -- the people who have poured bag of money after bag of money into the club and let the baseball people do what they do best. Their brain trust is so strong, they resisted any overtures to allow baseball operations folks to follow Epstein to Chicago. And that could have saved a serious amount of talent -- just look at who Epstein swiped instead... current
Padres
GM Jed Hoyer and assistant GM Josh Bynes. No, really.
That's because there's a lot to like about the new front office, which will have Ben Cherington heading the department. Mike Hazen, Craig Shipley and Amiel Sawdaye are all rising stars. When's the last time that happened in Boston? When Epstein's regime began. And these men have studied at the feet of Epstein from the ground up, and assistant GM Allard Baird has developed into a valuable confidant. They are part of a front office that has a player-development machine humming along quite nicely, and despite Epstein's rather copious free-agency missteps as of late, are still learned from one of the best in player acquisition. That's not to say that there won't be changes. Cherington is known to be more patient than Epstein, and we don't know how that might impact the team.
Whatever patience Cherington has, Boston's farm system is starting to show signs of fruit once more, after the high minors slumped the last two seasons. The prospect tree is led by third baseman Will Middlebrooks, and incumbent third baseman
Kevin Youkilis
can already hear Middlebrooks' stampede coming.
So, while Epstein's departure creates a huge void, the right processes are already in place to continue winning.
For more baseball news, rumors and analysis, follow @EyeonBaseball on Twitter or subscribe to the RSS feed.