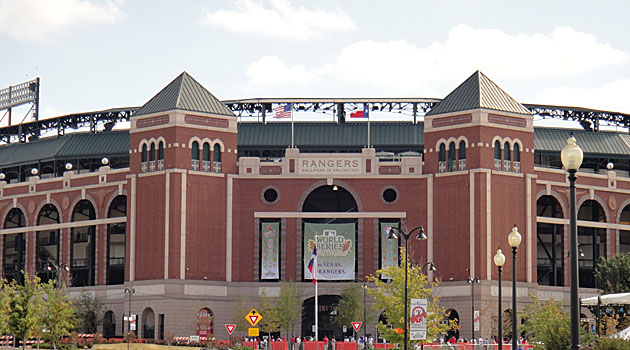 By Matt Snyder
ARLINGTON, Texas -- Too bad they don't do day games for the World Series anymore. As evidenced by these pictures -- taken by yours truly -- it is absolutely
gorgeous
outside Saturday afternoon in Arlington. The conditions for playing baseball couldn't be more perfect.
Unfortunately, that could change during the actual game, which doesn't start until 7:05 p.m. CT. From
Weather.com
:
"There doesn't appear to be any heavy rain concerns, but an isolated shower or thunderstorm could make an appearance during the game. Temperatures should hover in the 70s and winds shouldn't be too much of a factor, outside of shifting winds surrounding thunderstorms."
So here's the reality: We are not looking at a game broken up into two different days, which would then eliminate the off day, forcing travel headaches. That's the good news. Instead, it appears the worst-case scenario -- assuming the forecast is correct -- is a delay or two with the game still being completed. So it's bad news, but not horrible. Game 4 should still be Sunday night and Tuesday will still be the off-day, assuming the series doesn't conclude in five games.
Also, with the warm weather compared to what it was in St. Louis -- not to mention the presence of the designated hitter -- I fully expect the offenses to get back on track,
just as I said in the Game 3 preview
.
Let's just cross our fingers that we avoid extended delays.
View from the field at 2:00 p.m. CT: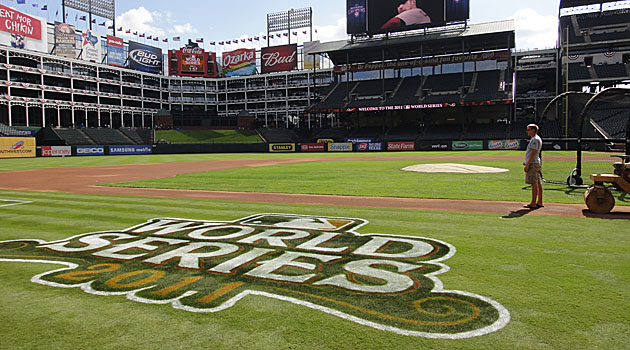 For more baseball news, rumors and analysis, follow @EyeOnBaseball on Twitter or subscribe to the RSS feed.