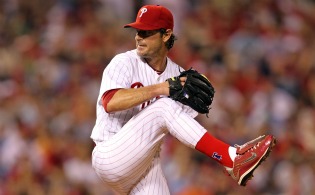 By Evan Brunell
It's easy to forget players who haven't been heard from all season, but there are some out there still lurking that could return in 2012 and make an impact after taking a year off.
Jamie Moyer
, who turns 49 in November, hopes he's one of them.
"I'd like to pitch again," the veteran left-hander
told CSNPhilly.com
. "I'd like to have the opportunity to walk away from the game healthy and on my own terms, and I'm willing to earn it."
Moyer was last heard from in July of 2010 as a member of the
Phillies
rotation. He made 19 starts, posting a 4.84 ERA and a 1.01 WHIP, the latter number the best mark he had posted since 2002, when he he was 39 and had a 3.32 ERA over 230 2/3 innings as a starter. Moyer sprained his elbow and required Tommy John surgery, which wiped out the second half of 2010 as well as all of 2011. But he's nearing a return.
"If this were the middle of July, I'd be at the stage where one more good bullpen session and I'd be ready to go out on a [minor-league] rehab assignment," Moyer said. "I've gone through this rehab knowing that my arm and body will stop me if they have to. So far they haven't."
Moyer has never been known for his velocity, but has built a career out of being durable, with a rubber arm and spotless command. All this from someone who seemingly washed out at age 29, missing all of 1992 after a weak showing in his first six seasons in the bigs, spent with the
Cubs
,
Rangers
and
Cardinals
. But he bounced back with Baltimore in 1993, where he remained for three years before briefly passing through the
Red Sox
and landing with the
Mariners
in a trade. That's where Moyer took off and made his name, before joining Philadelphia partway through the 2006 season and earning a ring in 2008, when he made three starts in the team's postseason race to the World Series title. Now, he's looking to play in his 25th season.
"All I can do is offer a chance to come evaluate me," Moyer said, noting he wants any opportunity to be "serious" and not a publicity stunt. "Some clubs will say, 'He's 49 years old,' but some will say, 'Let's give it a shot. Let's not make any assumptions until we see him throw.' Evaluate on what you see instead of what you think."
Moyer was able to spend three weeks with the Phillies in their spring training home of Clearwater, Fla., working with coaches and trainers despite technically being a free agency. GM Ruben Amaro allowed Moyer to spend some time in the facility but would not promise even a spring-training invitation.
"It was very gracious of the Phillies," Moyer said. "There were no expectations. I just wanted to be overseen by people who had seen me throw before. [Athletic trainer] Scott Sheridan knows me well and was kind enough to set up a six-week protocol for me to follow. I'm just finishing that up. I appreciate what the staff and organization did for me."
It will be difficult for Moyer to get a job, and much of his market will likely be limited to National League teams given his pitching style. He'll probably have to compromise on what type of team he signs with, as he may have to settle for a spot on a noncontending team to pitch, or agree to start the year in the minors if he can't win a spot out of spring training for whichever teams he ends up on. The
Padres
might be one option, as Moyer and his family live near the city and the Padres can always use low-cost options for the rotation. It's not clear if he would accept a minor-league assignment, but Moyer realizes what he needs to do to get a spot.
"Whatever you get in this game, you have to earn. I know I need to earn it."
For more baseball news, rumors and analysis, follow @EyeonBaseball on Twitter or subscribe to the RSS feed.