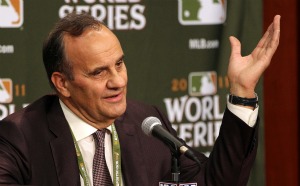 By Evan Brunell
Major League Baseball plans to investigate the drinking that went on in the
Red Sox
clubhouse, and could use that as an impetus to ban alcohol throughout the game, the
Boston Globe
reports.
"It's something we're concerned about, just to make sure that we get all the facts and that's my area," MLB executive vice president of baseball operations Torre said. "I know I have plans just to talk to some people."
It's unclear what the investigation would be, but it may simply have to do with checking into the situation to make sure that not only has all the information been divulged, but that it won't happen again. Given
Jon Lester
and
Clay Buchholz
both admitted to drinking beer in the clubhouse during games in which the starters didn't pitch and admitted to mistakes along with fellow starters
Josh Beckett
and
John Lackey
, that will probably be enough to satisfy Torre, especially with Boston president Larry Lucchino standing behind his starters.
Currently, the Red Sox are just one of 12 teams that allow alcohol in the clubhouse. Baseball doesn't regulate alcohol in the clubhouse, but with the latest revelations in Boston, that could change.
"If we do happen to bar alcohol from the clubhouses, you have to understand the intent of this thing and what it looks like," Torre said. "We're up there and we're role models, or we should be role models for the youngsters and how they behave.
"Guys understand that if they want to do something, they're going to do something. They're grown-ups. It's something where we implement rules that we feel would be best for the game and who we're being watched by. We've got to look at it."
Here's the only problem with this. Why is the news of Red Sox starting pitchers drinking beer on their off-days so horrible as to merit a possible leaguewide ban... and yet
DUIs are going unpunished
? Through early May, there had been six DUIs by players and none missed a game for illegally drinking and driving.
The idea of investigating alcohol in the clubhouse and whether or not to ban it makes sense. The reason for it does not.
For more baseball news, rumors and analysis, follow @EyeonBaseball on Twitter or subscribe to the RSS feed.