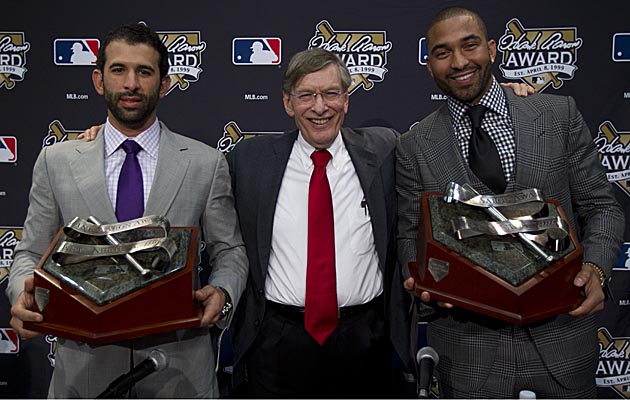 By C. Trent Rosecrans
While the MVP is awarded for a vague definition of value (and if you're one of the people who don't think a pitcher should receive votes, it also has a funny definition of player), the Hank Aaron Award is given every year to the "most outstanding offensive performers" in both leagues.
Of course, nobody really recognizes the award other than Major League Baseball, which gives out the award every year at the World Series. This year's winners are the Blue Jays' Jose Bautista and the Dodgers' Matt Kemp. And, since nobody really remembers who won the awards last year, I'll let you in on a little secret -- Bautista is a repeat winner. Kemp is not. The Reds' Joey Votto won the National League version of the award in 2010.
The award's voting process has changed several times, adding to the confusion. The latest process is sort-of outlined in the press release: "Fans voted for the award on MLB.com, and for the second straight year, a special panel of Hall of Fame players led by Hank Aaron joined fans in voting for the award. The Hall of Fame panel included two new members – personally selected by Hank Aaron – Roberto Alomar and Joe Morgan. They joined panelists from last year, which included Tony Gwynn, Paul Molitor, Willie McCovey, Billy Williams and Robin Yount, forming a group comprised of some of the greatest offensive players of all-time who combined for 23,536 hits, 11,445 RBI and exactly 2,800 home runs."
The winners, whoever ultimately chose them, were certainly deserving.
Bautista hit .302/.447/.608, leading the majors in slugging, OPS (1.056), OPS+ (181), home runs (43) and walks (132).
Kemp challenged for the triple crown, finishing third in batting average (.324), while leading the league in home runs (39) and RBI (126). He led the National League in runs (115) and OPS+ (171) and total bases (353).
It will be interesting to see where Bautista and Kemp finish in the MVP voting because of the varying definitions of value, but it's tough to argue the two weren't the best offensive players in their leagues last season -- and the award that is given was handed out to the right players.
For more baseball news, rumors and analysis, follow @eyeonbaseball on Twitter or subscribe to the RSS feed.