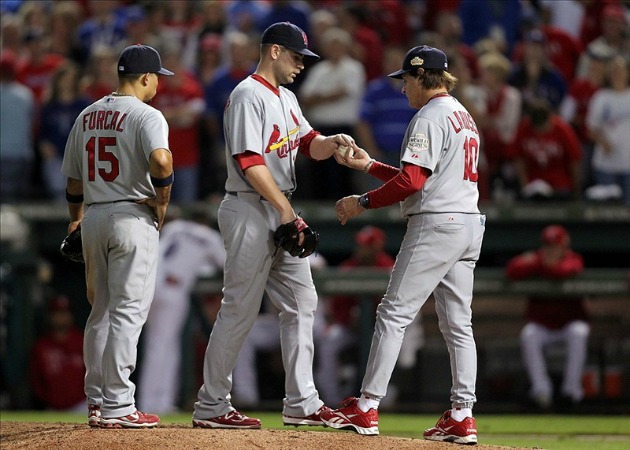 By C. Trent Rosecrans
Tony La Russa's non-move in the eighth inning of the Cardinals' 4-2 loss was certainly baffling -- CBSSports.com senior writer Danny Knobler didn't understand why La Russa left Marc Rzepczynski in to face Mike Napoli, the Rangers didn't understand it and even as La Russa tried to explain it in his postgame news conference, people in the room still had trouble figuring out why the left-handed Rzepczynski was facing the right-handed Napoli.
So, if you aren't quite confused yet -- check out the entire transcript of La Russa's postgame news conference, even though it's not guaranteed to clear anything up (with the non-pertinent parts replaced):
Q. Could you take us through the thought process leaving Rzepczynski in to pitch to Napoli.

La Russa: Well, what happened was that twice the bullpen didn't hear Motte's name. They heard "Rzepczynski" and they didn't get Motte. I looked up there and Motte wasn't going. So I called back for Motte and they got Lynn up. That's why he wasn't supposed to pitch today, so I wasn't going to let him throw that hitter. He just threw the warmups and walked him and Motte behind was ready. I don't know if it was noisy, probably real noisy. They just didn't hear the second time.

Q. (Inaudible).

La Russa: They heard "Rzepczynski" and they didn't hear "Motte", and when I called back I said "Motte", they heard "Lynn". So I went out there, wrong guy. He's not going to pitch today. I said, "Go back, get Motte ready. We'll walk the guy because I don't want Lynn to he is not supposed to pitch. I didn't want to hurt him. And then Motte came in. That's why -- it must be loud. I give the fans credit.

Q. Has that ever happened to you before where you had a call to the bullpen and guys didn't hear you right?

La Russa: Yeah, well, sometimes real loud, especially when some of the bullpens that are right amidst the fans and excitement. It happens in Philadelphia. It's hard to hear it there. So it's not unusual. Maybe we need to come up with some ear mikes or something.

Q. Just to be clear, if Motte was ready, he would have faced Napoli?

La Russa: Yeah.

Q. So you had no choice at that point

La Russa: He was warming up, so I said, "Get Motte up," and they heard "Lynn". But by the way, we had a chance with Rzepczynski's stuff to get Napoli the first pitch, and then he put a nice swing on a breaking ball.

Q. Not to be dense, but what's the sort of procedure in terms of when you guys have the phone call and call down there, who gets the word, and how do they convey it?

La Russa: The bullpen coach hears it, and like he heard "Lynn".

Q. Oh, he heard "Lynn"?

La Russa: Yeah, that's why Lynn got up, and I went out there. I thought it was Motte, and they were yelling at me as I went out. I didn't hear them. It wasn't Motte. So I saw Lynn, I went, oh, what are you doing here?

Q. On the telephone he didn't hear it?

La Russa: Yeah, when you say "Motte", they heard "Lynn". It wasn't supposed to be Lynn because he wasn't going to pitch today.

Q. I think this was brought up earlier but is there a problem when something like that can happen? Is there a better way to do it, bullpen phones in this day and age?

La Russa: Yeah, smoke signals from the dugout. There are times, like what happened in Philadelphia, the phone went out, and so we used cell phones, and then the Phillies brought down walkie talkies, and they fixed the phone. But that phone in a loud ballpark, it's not an unusual problem. I mean, it doesn't make it right, but...

Q. You said it happened twice?

La Russa: When Rzepczynski first got up, I mentioned Motte's game.

Q. So Motte ends up -- did you want both of them to get up?

La Russa: Motte was just going to go along because I was hoping that we'd get the left hander out and then we were not going to pitch to Napoli, and then we were going to go after Moreland. And then Motte would have been ready if they brought a pinch hitter.

Q. I guess this is a protocol question: If Lynn isn't available for this game, doesn't your bullpen coach know that?

La Russa: He's available in an emergency, but I wasn't going to use him. But if he hears "Lynn" and I'm the manager, what is he going to say

Q. That's why I was saying is there a protocol thing. Does he say "Tony, are you sure on Lynn?" Or something like that?

La Russa: I'm sure he's thinking that now, but when you hear something, he had a day off, but like I said, he wasn't going to pitch until Game 6. I saw the big fella come in, and I said, "Why are you here?" He came to pitch. "Walk the guy," because the next guy was going to pitch.

Q. The decision to pass Cruz, was that done with the idea thinking you had Motte for Napoli?

La Russa: Well, I was more thinking that we had a real good chance with Rzepczynski with a pinch hitter or not, and if we got an out or not we were going to pitch around Napoli and then go after the left hander. And if the worst happens, then we would have stalled and got Motte ready for Napoli. But he wasn't throwing,so we couldn't get him ready. That's when I called the second time and said "Motte" and they heard "Lynn".

Q. One more clarification: Is that conversation between (pitching coach Dave Duncan and and bullpen coach Derek Lilliquist)?

La Russa: It depends who makes the call. I made the call.

Q. So you made both calls?

La Russa: Today I did.
La Russa's counterpart, Ron Washington said the noise has hampered his ability to talk to the bullpen before at Rangers Ballpark.
Q. Tony said that he wanted Motte in the game, bullpen coach heard "Lynn" on the phone. He said that's happened to him before, was just a complete mix up, bullpen coach didn't hear him correctly. Has that ever happened to you?

Washington: Yes, it has. It has. And you've got to do what you have to do.
In a bit of interesting timing, on Sunday the New York Times wrote a fascinating story on the dugout phone as the last bastion of the landline, and how it's one of the last places where cell phones aren't used, even though the Cubs and Reds have both experimented with cell phones in the past. Perhaps a text would have worked well -- except anyone who has their cell service through a certain company that rhymes with "AT&T" may scoff at the notion of getting a signal in a crowded ballpark.
For more baseball news, rumors and analysis, follow @eyeonbaseball on Twitter or subscribe to the RSS feed.